WHY THESE BIG YELLOW THINGS ARE CRITICAL TO YOUR SUCCESS
18-02-2016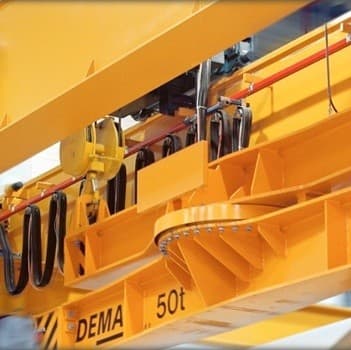 MHE-Demag is a highly trusted partner – across leading players in different industries – to perform one simple task – keep cranes running.
Doing so requires three things: Communication, prevention and reaction.
The problem is obvious and well known: In today's world a running production is crucial.
Unplanned downtime costs are enormous and many problems follow.
Every piece in the production process needs to work. Period.
Even though production lines are distinct for every company, there are elements which need to be taken care of, regardless of product or industry.
Goods need to be moved. Eventually raw materials will be turned into the final product. Along this journey a crane is needed to make movement possible for heavy and large materials.
Nothing of this is new – still it is essential to be spelled out.
To emphasise the importance of a simple necessity: A running crane.
Universal Anodisers, at the forefront of anodising aluminium sheets and extrusions for architectural applications in Australia, depend on their cranes for daily production. From 1998, MHE-Demag worked closely with Universal Anodisers to meet specific crane requirements for a purpose built factory.
A rough environment with acids exposes their production line and cranes to immense stress.
MHE-Demag has the ability to not only provide cranes that endure in such circumstances, but also to be there in case anything goes wrong.
To withstand such an aggressive environment, MHE-Demag work closely with Universal Anodisers.
It is necessary to stay in a continuous dialogue, to ensure all needs of Universal Anodisers are being met. This requires deep understanding of the production circumstances and expertise in crane design, manufacturing and maintenance. Thorough communication is a prerequisite to provide solutions for special and individual requirements.
Ausreo, a major player in the reinforcement industry had to realise this the hard way. Without an agreement for regular crane services, Ausreo followed the strategy to call for help when it was needed.
This led to unplanned downtime with all its negative consequences.
With over 20 cranes in various productions sites across Australia, Ausreo depend on the ability to lift and move goods, to keep their business running.
Since Ausreo decided to book in regular, preventive services, their cranes run – on time and on budget, without unpleasant surprises. MHE-Demag is trusted in highlighting necessary repairs and indicating potential future problems.
This kind of prevention is paramount for a business that relies on the ability to lift and move goods.
Weir Minerals, a leading supplier to the mining and mineral industry, choose MHE-Demag over other service providers, for simple reasons.
MHE-Demag is responsive and reliable. Functional cranes are key components in the production line of Weir Minerals.
Ensuring that cranes do not stop is money worth being spent. Downtime costs surpass maintenance costs by far.
Reaction time of a service provider is crucial for a supplier in Australia's most vibrant and demanding industries.
MHE-Demag Australia Pty Ltd
Ph: 02 9609 9500