Why blow money? Use direct driven air compressors
31-08-2010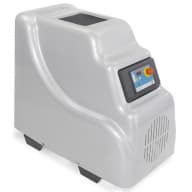 With escalating electricity costs, it pays to save energy whenever possible.
Compressed air is an important source of energy in many factories, but often air compressors are a major user of electrical energy.
When choosing a new air compressor it should be noted that compressors where the air end (air pump) is direct coupled to the electric motor use less energy than those with a V-belt drive. This is because it requires energy to bend the belts as they go around the pulleys.
Also, savings can be made with air compressors that use an Inverter type electric motor drive. These adjust the speed to the amount of air required at any particular time.
The Pneutech range of direct coupled rotary screw air compressors includes machines from 2.2kw (3hp) to 132kw (180hp) with, or without, air receiver tanks depending on requirements.
The Pneutech range of Inverter Driven direct coupled screw compressors includes models form 7.5kw (10hp) to 125kw (170hp).