Who would have thought you could ride a pressure washer?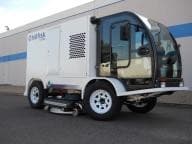 Nilfisk has introduced a new compact ride-on high-pressure washer that is taking industry by storm.
The new Nilfisk Cyclone is ideal for the every-day cleaning of transit authorities, airport ramps, city parking garage, car parks, public works, resorts, theme parks, roads, factories, warehouses, loading docks, environmental clean-up and spill recovery. 
Basically, anywhere you can find a concrete and sealed pavement
The machine is easy to operate and maintain, offering convenient access to components. 
It cleans large areas in less time than traditional walk-behind pressure cleaners. Its standard power steering makes it easy to operate a long side curbs and around corners.
Also, the Nilfisk Cyclone can be transformed from a surface cleaner to a curb cleaner or a hand-wand cleaner with a simple turn of a lever.
The patented cleaning and recovery head aggressively removes build-up, marks and petroleum deposits from concrete and asphalt with absolutely no discharge into the environment and no damage to cleaned surfaces. 
All water used in the cleaning process is recovered and filtered so all contaminants are removed, contained, and the water is recycled. Nothing is left behind but a clean surface that dries quickly and is usable immediately.
The Nilfisk Cyclone eliminates dragging hoses, surface runoff, frequent stops for dumping and refilling, wet feet and polluting the environment.
Nilfisk-Advance Pty Ltd
Ph: 1300 556 710