When was your pallet racking last inspected?
24-03-2014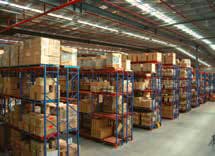 Did you know that all pallet racking needs to be inspected annually to comply with Australian Standards AS4084?
Warehouse pallet racking systems are designed to hold thousands of tonnes in weight to suit many different types of pallets and products. It is a known fact that once you apply a forklift and operator to the equation, that there is bound to be accidents between forklifts and racks. Some of the accidents can end in a rack collapse if not reported
Erect-A-Rack Pty Ltd provides an annual Pallet Racking Inspection including a full detailed Analysis Report, FREE Quotation, Compliance report on repair of any concerns, and a FREE Pallet Racking Inspection Log Book (containing WorkSafe Guidance Notes)
Erect-A-Rack Pty Ltd also offers protective wraps, guards and end protectors to save having to make repairs following your inspection.
Erect-A-Rack Pty Ltd
Ph: 03 9796 5077