WHEN THINKING FANS, IT PAYS TO THINK BIG
17-12-2014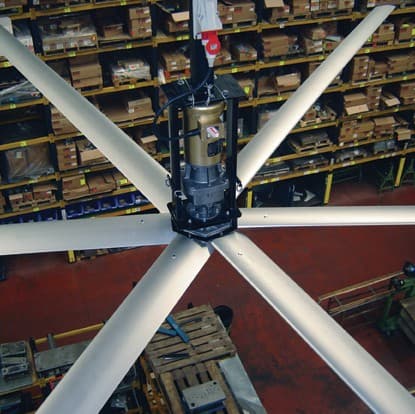 One of the biggest concerns for managers of large facilities is energy efficiency.
Growing energy costs can make heating and cooling a large space very expensive.
An estimated 25 percent of the energy consumption for large commercial and industrial buildings is used for heating or cooling purposes.
Energy costs for a warehouse facility can account for more than 10 percent of the total revenue, with more than 60 percent of a facility's total energy usage from heating and cooling or lighting.
The rising cost of energy and increased pressure to operate efficiently often leave facility managers charged with developing innovative ways to cut costs.
High volume, low speed (HVLS) fans used alone or in tandem with heating, ventilation and air-conditioning systems are an affordable option for controlling costs without compromising comfort.
Unlike a traditional ceiling fan, just one HVLS fan is capable of covering an area as large as 2000 sqm, for a fraction of the energy consumption costs.
The expense of using an air-conditioning system in warmer months can be substantial depending on building size, occupancy level and required tonnage.
In a warehouse or other commercial facility, large doorways, loading docks, windows and other open areas make it difficult to create a consistent climate.
During summer, room air can have several temperature and humidity layers if it does not circulate properly.
The use of an HVLS fans helps to maintain consistent temperature and humidity levels by moving cooler air from the HVAC unit throughout the entire space.
Installing an HVLS fan in a central location can maximize the air dispersal, causing more efficient air circulation and accelerating the evaporation of sweat on the skin to create the feeling of a cooler work environment.
US studies have shown that the use of an HVLS fan in combination with an A/C system can reduce the perceived air temperature by up to 7˚C without lowering the thermostat.
The increased air circulation from an HVLS fan could allow a facility to raise its air conditioning temperature as much as 4˚C while maintaining the same level of cooling comfort.
Other benefits include:
·       Remove stagnant air
HVLS fans help create a healthier work atmosphere by circulating air efficiently throughout the facility and removing pollutants that can cause illness and other air quality issues.
·       Reduce noise pollution
Environmental psychologists at Cornell University in the US have found that event low-levels of noise experienced while at work (like the noise of a traditional fan) can result in higher stress levels and lower productivity.
·       Deter birds and other pests
HVLS fans are a great way to keep birds, bugs and other flying wildlife out of spaces where doors open and close frequently.
More facilities managers are discovering the benefit of HVLS fans to complement their current HVAC systems. It's certainly a cool option.