When ratholes nibble away at Industry 4.0 advances, low-friction plastics can help kill the pests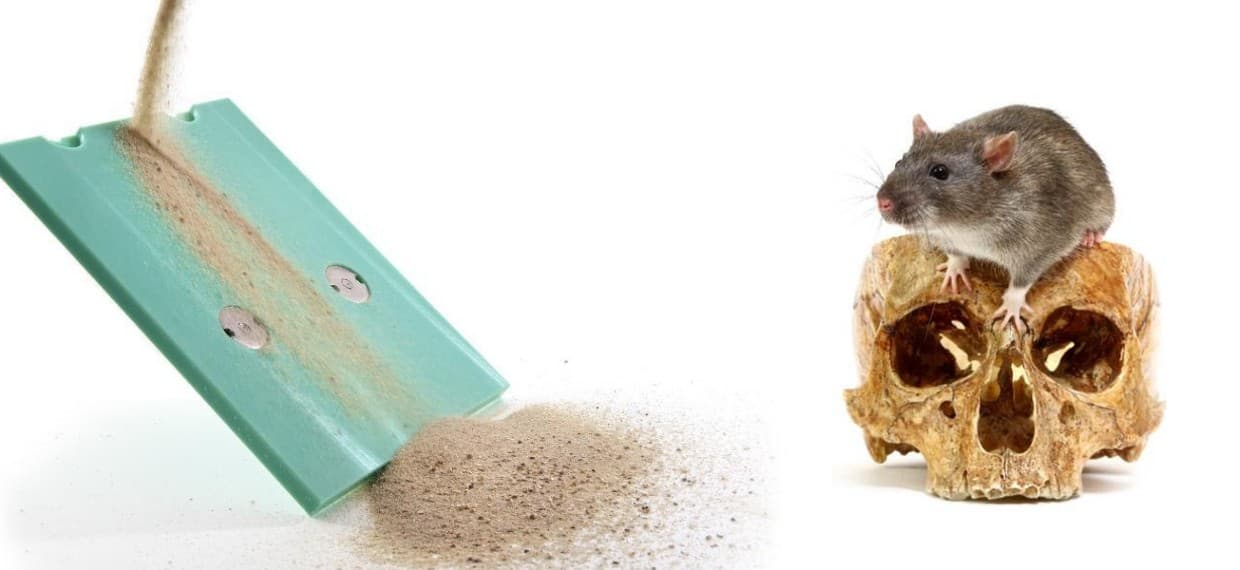 Dealing with bulk material flow issues – or removing such issues altogether at the design stage – is becoming critical to industries undertaking Industry 4.0 automation.
This is because digitally controlled high-flow processes are becoming more interdependent than ever, with each step depending on the most efficient execution of the previous one to ensure a smooth total sequence.
Such integration is in contrast to older processes occurring in time-consuming, sometimes breakdown-prone, steps with gaps between them – involving wastefully separated islands of activity or islands of automation.
"Put simply, efficient new production processes demand that gaps in the sequence are engineered out at the design stage, or addressed as a refurbishment priority, to ensure smooth flow of materials. More than ever before, blockages to production and delays need to be considered when upgrading a process or introducing a new system," says engineering plastics and low-friction surfaces specialist Mr Laurie Green.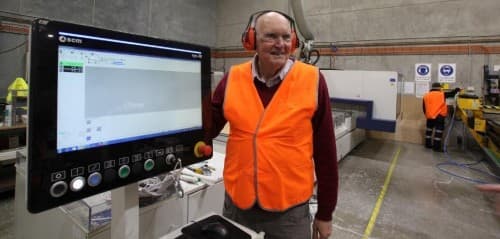 Laurie Green has introduced a process of continuous investment in skills and technology to tailor custom solutions to individual applications
Mr Green has more than 40 years' experience as Managing Director of Cut To Size Plastics, which is a national supplier of light, tough, hygienic and easily handled engineering plastics (such as Ultra High Molecular Weight Engineered plastics) that are supplanting metals in machinery production and process control roles where they offer significant advantages in terms of cost, hygiene, toughness and ensuring flow. The Asia-Pacific experience of Cut To Size in these fields is in turn backed by its major international suppliers, including those at the forefront of materials engineering change, quality control, and hygiene in Europe.
Profits down the rathole
Among the most familiar challenges to flow efficiency that Cut To Size encounters include arching of product to inhibit free flow and the clogging condition known as ratholing. 
These wasteful, energy-consuming, and sometimes hazardous events can occur in diverse materials handling applications, ranging from food and beverage processing, (including flour and ingredients, agricultural product processing), right through to ensuring smooth movement of coal, iron ore, slag, cement, gypsum and materials handled in Run of Mine (ROM) bins, silos, hoppers and transfer chutes, says Mr Green.
Ratholing – particularly in food and beverage and bulk dry goods handling – occurs when cohesive bulk materials are stored and conveyed in vessels with a funnel flow discharge pattern. When a stable rathole develops, constricting flow through a narrower outlet, the bulk material remaining in the vessel is stagnant and will not discharge. This stagnant inventory of bulk material can spoil, cause cross-batch contamination, spontaneously combust, and limit storage capacity.
Similar problems occur with arching, which occurs when an arch-shaped, or bridge, obstruction forms above the hopper outlet and stops flow. It can be an interlocking arch, where large particles mechanically interlock to form an obstruction, or a cohesive arch. A cohesive arch occurs when particles bond together due to effects of moisture, fines concentration, particle shape, temperature and other factors.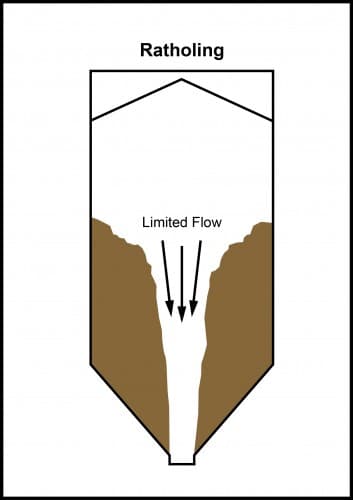 Product hangup and ratholing, depicted above, are two common causes of production interruption
Cut To Size addresses such issues using flow-promoting plastic liner material formulated and shaped to increase the throughput and capacity of hoppers and silos by curtailing the "hang up" of materials and eliminating dead spots in material flow.
"In many situations, the condition of ratholing and arching occurs because the wall surfaces of the vessel are not steep or smooth enough for materials to flow," says Mr Green.
Cut To Size custom-engineers solutions to such issues using its UHMWPE (Ultra High Molecular Weight Polyethylene) Wearex™ material, including food-grade green Wearex, which is a regenerated material specifically formulated to promote material flow in situations as diverse as mines, ports and hygiene-intensive food, beverage and agricultural processing and packaging facilities.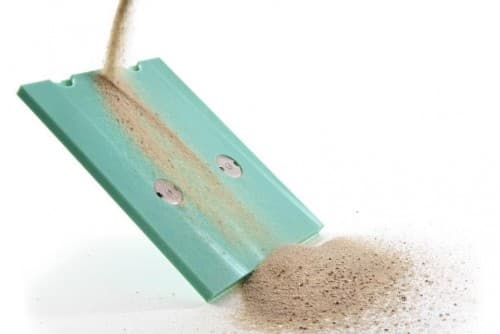 Cut To Size's low-friction solutions are sourced from internationally respect suppliers and custom-engineered engineered in Australia for particular applications
Green Wearex is part of a broader Wearex* family including:
GREEN food grade
NATURAL food grade,
BLACK virgin, BLACK reprocessed,
BLUE 80-EX (special filled grade, to formulate suitable performance characteristics for different applications), and
CERADUR XL (high performance material)
 
(*Also commonly known as Tivar®, Ralloy®, Polystone®, and Ertalene®.)
"Green Wearex, as with other members of the Wearex family, is precision formulated to achieve outstanding mass flows to eliminate ratholing and arching problems hampering flow rates and increasing downtime in unlined materials handling technology," says Mr Green.
The improvements reduce the need for energy consuming air cannons or vibratory equipment to dislodge hang-up material, reducing costs and enhancing profitability.
Green Wearex's extremely high molecular weight delivers a unique combination of low coefficient of friction together with outstanding abrasion and corrosion resistance. 
This permits reliable handling of a wide range of cohesive materials with "funnel flow" characteristics in which flow issues arise because they are affected by variables such as moisture content, temperature and storage design.
These factors can result in a material bulk which tends to stick to conventional lining materials – a difficulty which needs to be overcome at the material wall interface, so the material can flow down or along the hopper or chute wall.
"Often a solution to a funnel flow problem is to convert the discharge pattern to mass flow, facilitating uniform dwell time, minimising stagnant areas and keeping all of the material moving. To ensure this mass flow, the bunker or bin walls must be sufficiently steep and have a sufficiently low coefficient of friction to allow the material to flow along them."
Green Wearex achieves this mass flow with a low co-efficient of static and dynamic friction, while its wear resistance ensures a long life, even against abrasive materials.
Mr Green says engineering thermoplastics are often an unknown or misunderstood resource for machinery and infrastructure designers and operations staff.
"We are not pretending they are a universal panacea, but they are a highly effective and unexplored option in many cases. Some engineers and operations staff prefer to stick with the old way of doing things, and that is excellent where the solution involved is the result of extensive experience and examination of alternatives.
"But the science of materials is a rapidly advancing field, particularly advances in thermoplastics, where extended wear, minimal maintenance, reduced noise and OH&S considerations are important."
Cut To Size Plastics has the software and the CNC machines to develop bespoke engineering plastics solutions for diverse customer needs. Cut To Size Plastics staff are highly qualified, with a range of different engineering qualifications to assist with finding optimal solutions.
For further information, please contact Cut To Size Plastics Pty Ltd by calling 1800 CUT2SIZE, or contacting our offices:
Head Office (NSW): Cnr Dursley and Fairfield Roads, Yennora, NSW Australia 2161, Ph: 61 – 2 9681 0400, fax 61 – 2 9681 0450, sales@cuttosize.com.au
Queensland Office: Unit 1 & 2, 33 Stockwell Pl, Archerfield QLD Australia 4108
Ph: 61 – 7 3276 6700, fax 61 – 7 3276 6799, qld@cuttosize.com.au