WHEN MBR WATER TREATMENT SYSTEMS MAY BE THE BEST SOLUTION
26-04-2017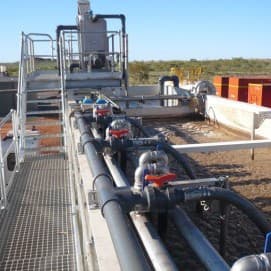 The membrane bioreactor (MBR) water treatment system represents the next stage in wastewater treatment and filtration. As water treatment demands continue to rise, ongoing research has led to new breakthroughs in water purification.
Although this technology still holds a slightly higher implementation price, ongoing innovations have helped to lower the price to much more reasonable levels. And, there are multiple advantages to showcase why MBR is the preferred choice for water treatment, filtration, and purification.
Getting to know MBR
Membrane bioreactor systems work by connecting a membrane filtration directly to a biological "sludge" separated from effluent. The membrane serves as a replacement for a sediment basin – the typical form of biological-based waste purification. The membrane works to catch all floating matter in a much more efficient way than these older sediment basin models. As a result, this allows a much greater sludge concentration retained through the filtration process.
MBR water treatment systems have a unique advantage in their installation locations. The membrane can be installed either directly in a biological basin (whether it's submerged or internal) or next to a basin (in a separate or external system). Membranes can vary from either micro or ultra-filtration depending on the specifics of the installation.
High efficiency in space and function
One of the greatest benefits to an MBR wastewater treatment system is in its overall size reduction for its operation. In many cases, the size can reduce a wastewater's overall footprint by anywhere from 30 to 50%. Depending on the circumstances, this reduction in size can allow these installations to occur in otherwise unusable locations.
The highly efficient system also can create much higher quality in the effluent after filtration. Additional secondary and tertiary filtration allow several more purification steps in an efficiently sized system. This allows effluent quality to be vastly improved compared with older sediment basin models – all accomplished in a much smaller form factor.
Improvements in environmental impact
Another great benefit of MBR water treatment systems comes in the form of environmental improvements. The process of water treatment can have an extensive environmental footprint. Thus, these treatment facilities can make some positive changes in their environmental impact when used.
As a "green" technology, MBR systems provide many operational innovations that improve overall energy use and resource consumption. This reduction in total energy use creates a net positive in resource savings. And these savings add up to create a much more efficient system. Although MBR water treatment systems can be expensive initially, the long-term savings from positive environmental impact make them smart investments.
Furthermore, construction of MBR systems can be blended into the environment depending on the geographical conditions. For instance, a system can have a large portion of its construction underground to better match with the environmental conditions where it is built. This type of blending produces a lowered environmental impact at the site of the MBR treatment system. And this helps to reduce the environmental effects of installing these systems in multiple different regions or terrains.
MBR: the next step in treatment and filtration
With all these factors coming together, one conclusion can be drawn: membrane bioreactor systems are the next stage in the evolution of wastewater treatment and filtration. The initial investment price may scare away many budget-conscious planners. But the wealth of other advantages – like efficiency in operation, space-saving form factor, and environmental improvements – make it a forward-thinking technology of choice.
As this technology continues to evolve, more and more organisations will begin to adopt its use. To get ahead of the curve, investing in a system today can lead to greater advantages well into the future.
Jayde Ferguson writes for Tristar Water Solutions – a water and wastewater treatment company in Western Australia. You can catch her on Google+.