When it comes to safety you can't go past Arbon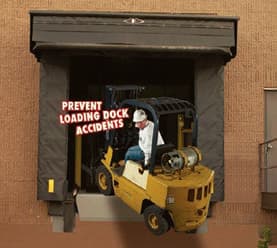 When it comes to Safety, Productivity and Innovation at your facility, Arbon Equipment aims to not only meet, but exceed your expectations every time.
Arbon Equipment Pty Ltd is a wholly owned subsidiary of Rite-Hite, a recognised leader in loading dock, door and aftermarket safety systems.
Now five years old in Australia, with offices and representation nationally, Arbon Equipment has been selling and servicing not only their own world renowned range of Rite-Hite products, but their opposition's products as well.
And Rite Hite has been supplying the loading dock and door industry in Australia for over 30 years.
"A large portion of our business exists because of our ability to service and in some cases replace our direct competitors' products," says General Manager, Lee Lorenc. "We are in growth phase and have been successful in securing a number of large projects this year which will give us more exposure in the market place to enable more customers to realise there are better alternatives out there."
Arbon Equipment believes its products and service levels, provide benefits such as economy of operation, maintenance and reliability, which are essential to any materials handling applications.
Products include:
• Dock Levellers – hydraulic, mechanical and air operated
• Vehicle Restraints – vertical barrier, rotating hook and wheel lock
• High speed external and internal doors
• High speed cold storage doors
• Sectional panel lift doors – insulated and non-insulated
• Industrial HV/LS fans
• Dock lifts, scissor lift tables, car lifts, freight & goods hoists
• Sentry column impact protection
• Rack impact protection
• Car parking impact protection
Arbon can help you to meet your safety goals and improve productivity, energy efficiency and security.
Offices are located in Melbourne, Sydney and Brisbane, with representatives in other States.
Arbon Equipment Pty Ltd
Ph: 1800 427266 (4 ARBON)