WHEN IT COMES TO INNOVATION OMRON LEADS THE WAY
19-06-2015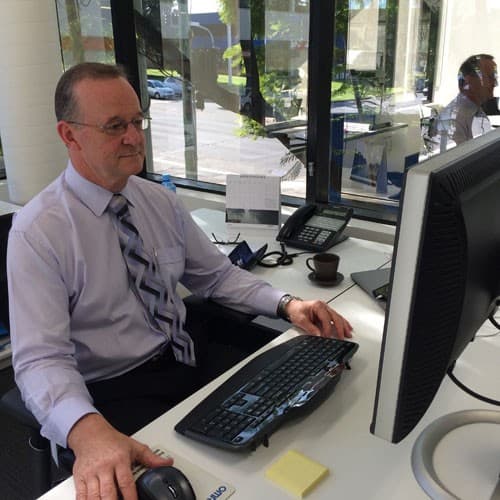 Australian manufacturing is not dead, merely experiencing a dramatic transformation, says Mr Greg Field, the Managing Director of Omron Electronics in Australasia. In this exclusive interview with Industry Update, Mr Field says new technology and automation will present some outstanding opportunities for Australian industry in coming years …
Founded in Japan, Omron is a global leader in automation. Since its establishment in Australia in 1987, Omron has grown from strength to strength. What are the main reasons for the company's outstanding success?
Innovation and quality. The Omron name stands for quality. The company has always produced quality products and people respect that. Our customers know if they buy an Omron product it is built to last … it will work.
Innovation also plays a huge role in the company's success. That's why we remain a market leader.
With Omron's Sysmac automation system customers have everything operating on one platform.
What is the company's main point of difference?
Definitely innovation, but also our people. Omron is like a big family. There is a great working culture. Our staff are very passionate about what they do and are very proud to be working for Omron. That makes a huge difference.
What has been your greatest achievement since you started with Omron?
Over the years we have changed the model from distribution to direct sales to get closer to the customer. By doing this it has allowed us to really understand the customer's needs and cater for those needs.
What are the greatest challenges now facing Australian industry?
To remain competitive Australian industry must automate. It must embrace innovative new technology to boost productivity. Robotics is one of the ways forward. We can expect to see more robotics in factories throughout Australia in the near future. Manufacturers that remain labour intensive will continue to struggle.
Omron invests at least 10 percent of its profits each year on research and development. Has that paid dividends for the company?
Most of the R&D is currently undertaken in Japan. It has always been a high focus for Omron. As a result we continue to roll out new innovative products on a regular basis.
Safety and training has also been a strong focus for Omron. Will this remain high on the company's priority list?
Safety in the workplace is paramount. All Omron products are designed to comply with the strictest safety standards. Companies that do not comply with Australian safety standards now face huge fines. It pays to invest in quality products.
Omron also conducts training programs for its clients to give them a thorough understanding of the technology to ensure they gain maximum benefit. 
How important is energy efficiency for Omron?
Two years ago I had the pleasure of visiting Omron's head office in Japan and inspecting its manufacturing facilities. Omron ensures its processes are energy efficient during all stages of production. The company takes great pride in conserving energy in its own factories and this culture is taken out to the market place.
What are the future trends for manufacturing in Australia?
We are definitely going to see more robots in the workplace and Omron will continue to build on that platform.
Can you identify any opportunities for manufacturers in coming years?
Plenty of people want to tell you that times are tough and getting tougher, but it's what we have to work with. Some industries such as mining have slowed down following the boom, but other industries such as solar and medical are growing rapidly. At Omron our global strategy is to develop more products to meet demand in growing industries.
*Greg Field joined Omron Electronics 23 years ago after a successful sales career in the Electronic Industry. He was appointed managing director of Omron Electronics for Australia and New Zealand in 2005.
About Omron
Established in 1933 as the Tateisi Electric Manufacturing Company in Osaka, Japan, Omron is a global leader in automation.
Founded by Mr Kazuma Tateisi, Omron's core value is "At Work for a Better Life, a Better World for All."
The Omron group has more than 36,000 employers in 35 countries throughout the world. Net sales are approaching $US7 billion a year.
The company specializes in industrial automation equipment including electronic components, automotive electronics, traffic/road management solutions as well as state-of-the-art healthcare equipment.
It offers more than 200,000 product lines including sensors, switches, relays, machine safeguarding equipment and factory automation systems.
Omron Oceania was established in 1987, with its headquarters now in Silverwater, Sydney.
Omron Electronics
Ph: 1300 766 766