WHEN IT COMES TO INNOVATION ANSELL LEADS THE WAY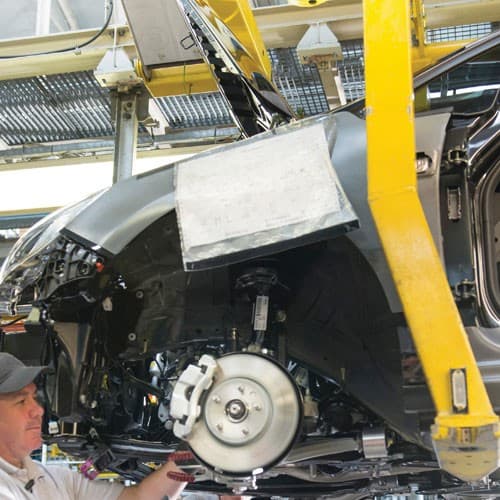 Australian companies are using innovation and global resources to succeed in a tough, cost-down environment.
Aggressive competition is a familiar problem for successful Australian businesses that have become market leaders.
A prime example is Ansell, an Australian industrial icon whose sales of protective gloves are three times that of its nearest global competitor.
Ansell manufactures more than 10 billion gloves per year and provides protective solutions to more than 10 million workers every day across 25 specific industries around the world.
"In today's competitive environment, no one can command a premium price based on brand reputation alone," said Scott Corriveau, President and General Manager, Industrial Business Unit.
"The days are long gone where strong brands can expect to command a premium. Price competitiveness is extremely important, particularly in the current negative economic climate where cost-down pressures are intense in key industries such as manufacturing and mining," he said.
Innovation has been a cornerstone of the Ansell business throughout its one hundred year history to ensure it delivers quality and performance that translates into real value for customers.
Its focus on innovation has come to the fore again through a strategy to own as much of the value chain as possible, committing to a process of "backwards integration" that includes research and development, manufacturing processes and associated engineering and material sciences.
A recent trend has been the move away from general purpose hand protection that offers minimal levels of cut protection towards much lighter, more comfortable gloves that deliver much higher levels of cut resistance.
Ansell has tracked this change in the market and has implemented strategies to exert greater control of the value chain to enable it to supply high performance hand protection that is competitively priced.
In anticipation of this shift in the market, it has made diverse global acquisitions as strategic investment steps in developing proprietary technologies. These include groundbreaking material engineering technology, as well as twisting and weaving its own yarn; a crucial step in giving it a competitive edge in the market for independently certified, high cut resistant ultra-lightweight gloves.
"As the market leader with global manufacturing facilities, we can leverage resources for a competitive advantage by controlling the manufacture, rather than just subcontracting and branding generic material products. The way our management systems and manufacturing are integrated means this approach is not a drag on performance, which is sometimes the case where global companies allow size to impact its ability to be nimble and responsive," Mr Corriveau added.
Since 2012, Ansell has acquired Trelleborg Protective Products in Sweden; Comasec in France which has production facilities in Portugal and Malaysia; Hands International, a Sri Lanka weaver of yarns; Hércules Equipamentos de Protectção Ltda in Brazil and Midas Co with factories in Korea and Vietnam. The most recent acquisition has been Barrier Safe Solutions in the US.
These strategic investments have been designed to give Ansell the control needed to produce high-performance competitive products such as those it is currently releasing.
The first three new styles are now in the market – the HyFlex "7 Series" – and will be followed by several other innovative ultra-lightweight styles, which are due for release this month.
Ansell says it is approaching the challenge of global competition by developing and manufacturing gloves in the most efficient and effective locations, with the same consistent management approach, supported by its ownership of as much of the development and manufacturing chain as possible.
The benefit of such an approach is to remove layers of margin to enable the company to compete with the price-driven house brand competitors, while offering better performing products.
It is also consistent with what is needed to prosper in today's fast moving global market, where strategies such as integration with offshore manufacturing should be a consideration of all manufacturers of leading branded products.
A sound business strategy for global suppliers is a commitment to compliance with the relevant standards. Ansell follows this rule rigorously by undertaking independent third-party testing of its products to give customers the assurance that their hand protection is fit for purpose. Compliance is particularly relevant for Europe where certification is mandatory and no exceptions are made for the Australian market.
The move towards competitively priced, high cut resistance hand protection also means common ground is emerging for the needs of purchasing managers who seek price/ performance value and safety officers who are responsible for the welfare of workers.
Another way Ansell is able to deliver value, and a key element of the "backwards integration" approach, is the Ansell Guardian program, a unique suite of management tools that implement business performance improvements across seven key functional areas of a customer's business. Under this program, best practices are implemented to reduce costs, improve safety, eliminate waste and standardize processes.
"We are very conscious of the need to deliver better value. Safety leaders have experienced difficulty in achieving hand protection compliance and we have shown the way by delivering a solution in the form of competitively priced Cut Level 3, 4 and 5 hand protection in a comfortable, ultra-lightweight glove.
"We know hand protection better than anyone, but we understand that our customers need more than a brand name. They need and expect value, so it's up to us to continue to innovate so that we can continue to deliver value, safety and performance," Mr Corriveau said.