When the heat is on … Heatmaster rules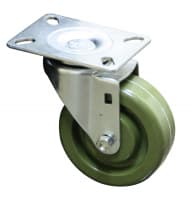 Hot products … Heatmaster wheels and castors from QHDC
High temperatures found in many applications requiring wheels and castors can significantly reduce the lifespan and functionality of these vital components.  
This is especially the case where steam or other contaminants like powder, grit and corrosive gases are present.
Designed and patented in the US, manufactured in China and now available in Australia is the range of Heatmaster Plus High Temperature Phenolic Wheels that will withstand a constant 260°C or an intermittent 290°C.
This includes baking ovens, smoke houses, kilns, powder coating ovens – in fact in any application where heat is present and products or equipment needs to be moved.  
In addition to their heat capability these wheels also incorporate the Quad-Plus bearing system. This system is a unique combination of two precision bearings and two journal bearings that eliminate dry-friction squeaking and resist grit, moisture, hair and fibres from entering and damaging the bearings.
Heatmaster wheels come in sizes 100x38, 125x50 and 150x50 with capacities ranging from 150kg to 360kg when used at their maximum temperature rating.  
The wheels are sold separately or assembled into castor frames in both zinc plated and stainless steel construction.
Heatmaster wheels have a low rolling resistance and they won't deform or flat spot. Unlike cast iron wheels that are often used in high temperature applications they are quicker to dissipate retained heat thus avoiding damage to floors and surfaces. 
Australasian distributors QHDC Australia has an extensive range of wheels and castors, including Heatmaster.
QHDC products are now available through distributors and resellers across the country.
QHDC Australia   
PH 07 5593 4718