When the going gets tough, get StockCap Pipe Caps
10-02-2012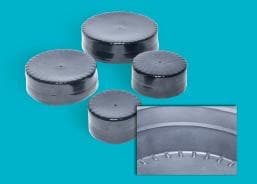 StockCap has released the first 4-sizes in their new Pipe Cap range – ideal for the mining, oil and gas markets.
Available from Sinclair & Rush immediate delivery, StockCap can supply caps to suit Nominal Bore (NB) Pipes 5" (125NB), 6" (150NB), 8" (200NB) & 10" (250NB).
Manufactured from specially formulated flexible Vinyl and supplied from stock in black, StockCap Pipe Caps are made tough for harsh environments.
The internal design incorporates moulded-in-lugs around the circumference of the closed end as well as locking rings on the internal walls to provide venting in non-threaded applications and additional locks for threaded applications.
StockCap Pipe Caps are an effective and economical means of preventing moisture, debris, dirt and vermin from entering expensive pipes during shipping or storage.
StockCap will add larger Pipe Cap sizes to its range throughout the year.
Sinclair & Rush Pty Limited
Ph: 1800 00 3211
www.sinclair-rush.com.au