When the going gets tough, get Gates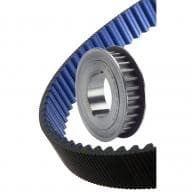 Optimum performance … the Poly Chain GT Carbon belt
Poly Chain GT Carbon, Gates most powerful synchronous belt, has been designed for optimum performance on high torque, low speed and high speed drives in any industrial application. 
The lightweight belt features power ratings of up to 30 per cent greater than previous constructions and still maintains the long service life. 
The Poly Chain GT Carbon belt construction is innovative and state-of-the-art.  
With a unique polyurethane compound for the body and teeth, the belt is super tough and virtually immune to abrasion and chemical attack.
For roller chain applications, Poly Chain GT Carbon belts are the ideal choice. They do away with the maintenance of re-tensioning and lubrication and can deliver power capacities exceeding those of equivalent width and pitch standard roller chain drives.  
The belts save space, weight and money and deliver a more cost effective, longer and reliable service life.
The Poly Chain GT Carbon belt drive system is built to take all the stop, start, shock loading, back bending and backlash you can dish out.
Gates Australia
Ph: 03 9797 9666