Published 24-11-2021
| Article appears in November 2021 Issue
Wheels within a wheel technology brings 360-degree mobility to industry and consumers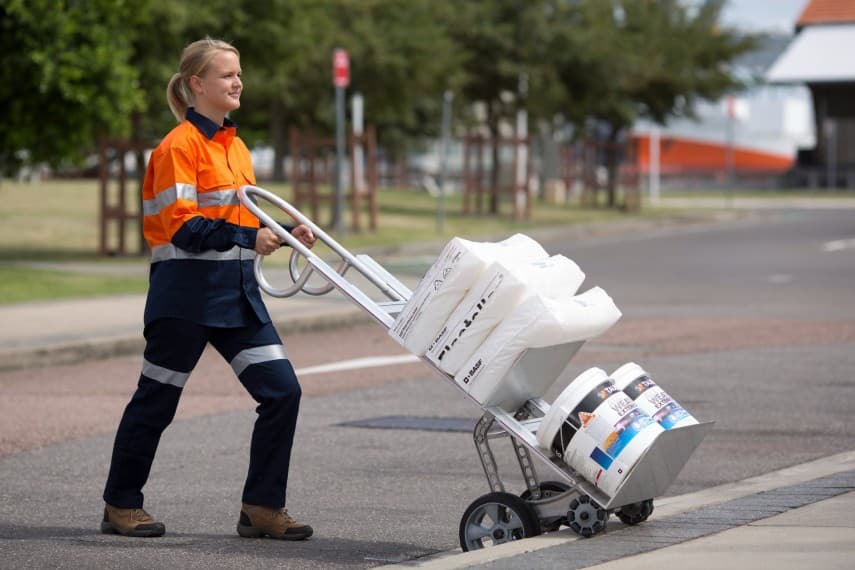 There are only a handful of global manufacturers of omni-wheels globally. One of those is NSW-based OMNIA Wheel.
Omni-wheels date back to the 1970s but OMNIA's managing director, Peter McKinnon, said it is only recently that businesses and product designers have realised the benefits and applications of omni-wheels over conventional swivel casters.  
Omni-wheels are wheels within a wheel. Mr McKinnon said they provide the simplicity of a fixed wheel with the multi-directional capability of a swivel caster. 
He said omni-wheels can fit better within a product to improve aesthetics and are simple to mount. They help create products that are more intuitive to use and that respond directly to applied force. 
"Gone are the days when wheels went one way, and we went another," said Mr McKinnon. 
"Unlike swivel caster wheels, omni-wheels reliably track in any direction and turn when you turn, while improving load stability," he added.
OMNIA's wheels are transforming and enhancing products used in the ergonomic materials handling, robotics, conveyor sortation and Medtech equipment sectors, helping to create new lifestyle products. 
180mm omni-wheel launched
This month, OMNIA launched a 180mm wheel, which is the firm's largest, taking its number of available wheel sizes to five. 
Mr McKinnon said the 180mm wheel will significantly improve ride quality and load capacity. It can also be readily power driven.
"The larger wheel means less vibration and noise, making it a winner for sectors such as MedTech equipment and retail equipment.
"Other exciting applications with this size wheel include scaling our conveyor sortation systems for pallet loads and other large, heavy items."
Robotic food delivery 
Autonomous mobile robots (AMRs) at Singapore's Kwong Wai Shiu Hospital are picking up and moving food trolleys fitted with OMNIA's wheels. 
Mr McKinnon said the fixed orientation and alignment of the omni-wheels means they don't collide with or obstruct the robot. The wheels allow a smaller wheelbase and provide more load stability, particularly for tall, narrow trolleys. 
"The absence of a swivel offset minimises the trolley width, allowing the robot to navigate tight spaces and to save space when storing the trolleys." 
The robot supplier, US-based logistics automation company Atheon, is also using OMNIA's wheels on its T4 Tug AMR. 
Food delivery is not the only robotics application of OMNIA's wheels. The first take up was in autonomous disinfection robots in China. 
Australia's first autonomous sterilising robot, at Royal Hobart Hospital – developed by Omron in partnership with Atherton – also uses OMNIA's wheels.
"Our new 180mm wheel will open the door for even better robotic mobility," Mr McKinnon commented.
Multi-directional conveyor sortation 
Omni-wheels are making fast and more flexible multi-directional conveyor sortation a cost-effective reality. OMNIA's wheels are used in both automated and manual conveyor tables. They can be installed into existing systems, are relocatable and can be programmed for secondary processing. 
Per hour, OMNIA's system can sort up to 4,880 items weighing up to 30kg, based on a 50% diversion rate.
European customer, Cellumation, uses OMNIA's 50mm wheel in its conveyor sortation system. It won a global DHL Innovation Award in 2016.    
"With our omni-wheel conveyor sortation tables you can divert, position, align, rotate, orient and merge packages without lifting, pushing or guiding them. With fewer moving parts, they deliver greater reliability and performance than alternative systems.
"Because our patented wheels are injection moulded all-polymer, they are impact resistant and won't corrode, making them ideal for use in mission critical environments."  
Ergonomic materials handling
When a major Australian supermarket chain conducted an 11-month trial of OMNIA's four-wheel Rotatruck for milk crate handling, injuries fell by 88% and productivity increased by 21%.
Mr McKinnon said Australian retailers and other food and beverage distributors – including Woolworths, Coles, Baby Bunting, BWS, Liquorland, Freedom Furniture, and Norco – are embracing these next generation hand trucks fitted with omni-wheels. OMNIA's gas cylinder and milk crate hand trucks are used around the world.
Mr McKinnon said the award-winning Rotatruck is easier, faster and safer than conventional two-wheel trucks and trolleys, taking the load off the operator.
"The design of the Rotatruck drives safety, rather than relying on operators to comply with standard operating procedures. With a two-wheel truck, operators often reduce the load in case they hit uneven terrain or an obstacle."
Rotatruck operators can lever rather than lift, ease back rather than pull back, with the truck carrying the load, not them. They can step up a kerb, as opposed to having to pull the truck up backwards.
"Users of our hand trucks consistently say they will never go back to a two-wheel trolley." 
MedTech equipment applications  
The Omni-Sense white cane tip is the application of which Mr McKinnon is most proud. He said using an omni-wheel on the bottom of the cane provides improved mobility for vision impaired people.
Ian Edwards, also known as The Blind Chef, helped OMNIA to develop and test the device for which there is great interest in the United States.  
Mr McKinnon believes the MedTech equipment sector is one of the biggest for omni-wheel applications due to their intuitive and direct response.
"Our wheels have applications in improving mobility for people with a disability, rehabilitation, patient handling, assisted living and emergency evacuation."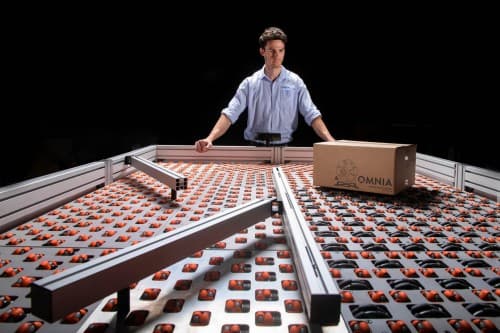 Award-winning design 
OMNIA has taken its first step in the home and lifestyle sector with the introduction of its Omni GliderTM. 
The plant pot mover allows people to easily move pots of all sizes without tipping, jamming or rolling away like dollies with swivel castors.
Mr McKinnon said it is a great example of the product design benefits of omni-wheels. The wheels are hidden within the unit, so the pot and plant are the feature, not the dolly. 
The Omni GliderTM took out a 2021 Good Design Award in the Product Design (Housewares and Objects) category in October.
Bright future for Australian manufacturing
One of the silver linings of COVID-19 is the spotlight on the importance of domestic manufacturing. Australian businesses, consumers and governments have all realised the importance of having local supply chains from a viable local manufacturing sector.
"It has been a long journey, but we might just be a 15-year overnight success story," Mr McKinnon said.
"It is rewarding that we are manufacturing to improve the productivity and safety of many industries, advance medical technology and enhance people's dignity and quality of life."