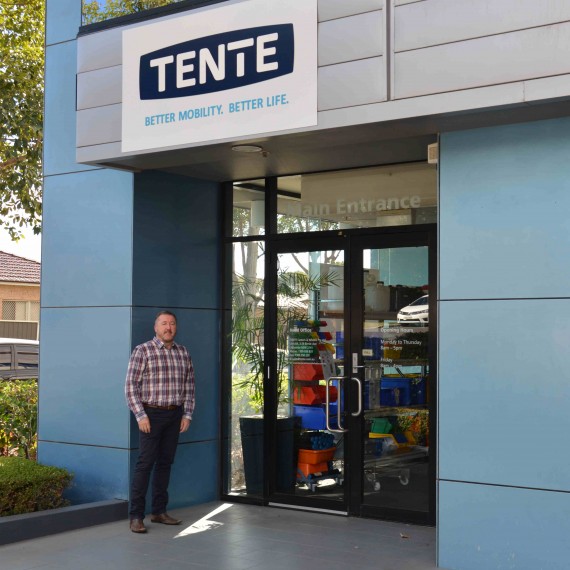 Tente Australia MD Grant Smith
With an all-new corporate image for 2018 and a growing share of the Australian market for castors and wheels, Tente Australia has come a long way since the then Moore Equipment was transformed into Tente Castors & Wheels in 2012.
Operating from still modern facilities in western Sydney and with a well established distribution network covering all the states and territories, the company is benefiting from the positive aspects of being majority owned by one of the world's biggest players in the castors and wheels market, while retaining its independent heritage and tradition as a supplier of a wide range of materials handling and warehouse equipment.
This makes the Australian operation unique among the Tente worldwide network, which comprises some 30 different operating companies and over 100 agents, all of which are uniquely focused on their local castors and wheels markets.
Tente Australia MD Grant Smith is a veteran of the Moore Equipment days, and he says that the balance of the company has changed since the merger with Tente. "In those early days, castors were probably only 40% of our business," he says. "But now it's more like a 65/35 split between the castors and the materials handling."
Ironically, during that same timescale, Smith says that Tente's competitor's have moved in the opposite direction. "There are several other castor companies within Australia that have diversified, and they've moved into the materials handling markets where we've been strong for decades," he says.
So, what of the Australian market for Tente's core products of castors and wheels?
According to Grant Smith, there are a number of market niches where Tente's quality German-engineered products are dominating. "The medical area is big for us at the moment," he says. "There's a good deal of investment going into hospital rebuilds and refits, and there are several very successful medical equipment OEMs."
And while the business level may not be as high as it is in Europe, where Tente gained its reputation as the number one supplier to the medical sector, it remains a major slice of the action for Tente in Australia.
Other market sectors where Tente is strong worldwide are relatively small in Australia. The airline market, for example, with its large assortment of different trollies and luggage-moving equipment is serious business for Tente in Europe, but with even Qantas offshoring its kitting and maintenance, there is very little in Australia.
One area that has been a challenge of late is the light and medium duty industrial market, where Smith says there is a large volume of low-cost product coming out of Asia. And, similarly, the market for heavy-duty castors and wheels appears to have peaked with the resources boom, although the construction machinery sector remains buoyant.
Where the Tente castor range does score well is in its level of technical innovation – combining a substantial R&D organisation with the traditional values of German engineering does tend to pay dividends, according to Grant Smith. Our focus is on Solution selling and project related work.
For example, he highlights the company's introduction of a wireless central locking system for medical apparatus castors. "We're certainly the biggest player worldwide in that technology, and it's solving problems that people didn't know they had!"
The company's pioneering work in synthetic castors has also proved important. "Synthetic castors today are just as strong as traditional metal designs, and they're really starting to take off, especially where cleanliness, infection prevention and corrosion are issues," he says.
And what of the Australian company's continuing activities in the materials handling market?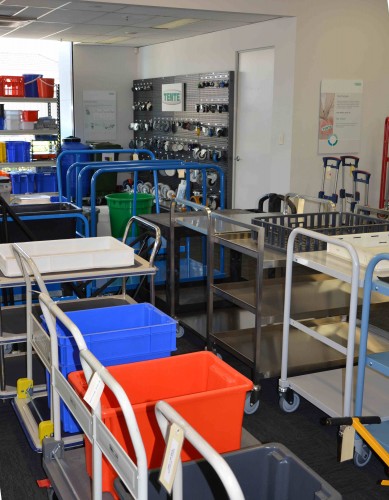 "We'll certainly keep our focus on materials handling," says Smith. "Our customer base demands it, and in the local market we really do need that diversity of product."
Those products are mostly produced by a select group of local contract manufacturers that have been working with the company for many years, producing materials handling equipment to quality levels that match the exacting standards that Tente applies to its castors and wheels.
Indeed, visiting the company's showrooms in Lidcombe, if you didn't know the history of the company you would be hard pressed to distinguish locally made products from those from Germany.
This makes the parent company's new image a doubly positive move for the Australian operation. Gone is the Castors & Wheels suffix: the company is now known as Tente and with the mission of "better mobility, better life".
And when you think about it, that applies just as well to materials handling as it does to castors and wheels.