What to look for in a clamp-on agitator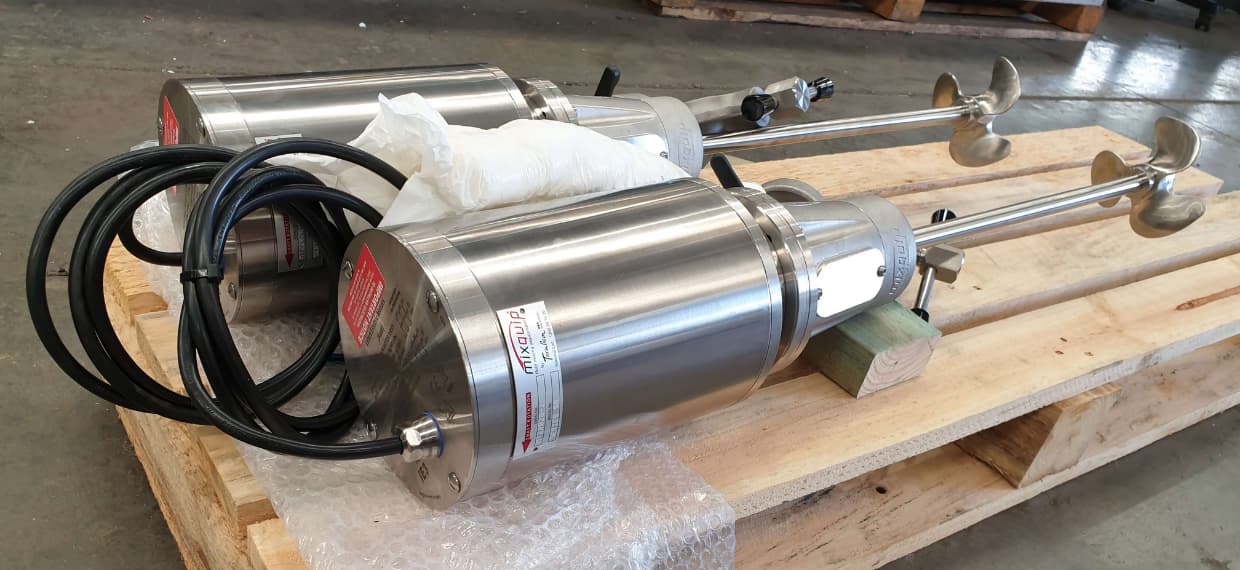 An efficient business is a profitable business,and according to Teralba ensuring each part of the mixing and production process is as efficient as possible is a key concern for food and beverage producers. 
Whether the facility processes dairy products, meat, wine, juice or a multitude of other products, it pays to invest in a mixing system that will provide long-term efficiency gains. 
Some of the key features to look for in a clamp-on agitator or agitator are its design and flexibility, and how quick and easy it is to clean and sanitise. 
Getting these critical points right at the outset will reduce both washdown times and process changeover times. 
Hygiene and versatility
Firstly: is the agitator hygienic? A good quality agitator should be constructed of stainless steel, with all components that come into contact with the product manufactured from 316 grade stainless. 
This ensures cleaning and sterilisation can be completed confidently with the absolute minimum risk of contamination. 
Versatility is another important feature: most clamp-on agitators can be fitted to open tanks making them suitable for different processes in your facility. However, it is the versatility of the impellors that really turns a simple agitator into a multi-skilled workhorse. 
Agitators that are hard to adjust or position, or require complex tools to change impellors will slow your process down. Look for agitators that are compatible with a wide range of impellors suitable for different viscosities, tank sizes and fluid flow requirements. 
Finally, look for full washdown capability in your agitator, a fully sealed unit that is IP66 rated will save time in the post-production cleaning process. A clamp-on agitator that features a sealed drive means it can be hosed directly with a spray gun without worrying about damage from water ingress.
Increased efficiency 
Mixquip's Series 50 range of stainless steel clamp-on agitators are fitted with waterproof all-stainless drives with a rating of IP66. This makes them waterproof against hose-directed water, meaning no time-consuming dismantling is required for the facility's washdown operations. This feature allows the versatile drum and tank agitators to be used in almost any environment in food and beverage operations, as well as for other applications such as chemical plants.
The innovative Mixquip Series 50 Clamp-On Agitator allows 30 degrees of movement in two planes so the agitator can be positioned to get the exact mixing and blending action required. A choice of drives provides customised mixing for all viscosities, with direct, gear or variable speed drive models available. 
Easy to fit to open-top tanks up to 8000 litres, these portable agitators help to reduce power consumption by returning as much as 65 percent more agitation per kilowatt compared to conventional agitator units. 
Additionally, the Mixquip impeller design range covers almost every mixing application requirement. From flow to dispersion to high shear mixing, each impeller design is modelled using Computational Fluid Dynamics software to ensure the right balance of speed, flow and displacement resulting in precision agitation. 
Designed and made in Australia by Teralba Industries, Mixquip all stainless Clamp-On Agitators are typically made to order in less than 2 weeks. 
Drawing on over 40 years of experience, Teralba Industries offers a range of mixing equipment that enables food and beverage processors to produce consistent mixtures, every time. 
Contact us for more information or visit teralba.com.