What does the future hold for Australian industry?
31-08-2010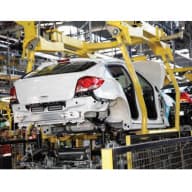 It's all about working smarter, says Professor Roy Green.
Australian manufacturers are battling stronger headwinds than ever before. The continued strength of the Australian dollar, fierce international competition, cheap imports and a chronic skills shortage are just a few of the major challenges now facing industry.
To survive, industry must not only adapt, but undergo a major transformation says Professor Roy Green, the dean of business at the University of Technology, Sydney.
It's impossible to know where the Australian dollar is heading, but we should assume it will stay high for a while, says Professor Roy Green.
This means Australian manufacturers are under more pressure than ever before to adapt and become more innovative, he says. Professor Green, a key member of the federal government's Manufacturer's Leaders Group, says there is not much government can do to lower the dollar's value.
"It is something that could continue into the next few years, so adaption is essential," he says.
The strong dollar has had a major impact on any companies that are trade exposed.
That includes exporters or companies competing with imports, including large automotive and steel companies.
Professor Green says almost any sector can embrace that innovation message. This includes high-tech areas like medical instruments and low or medium-tech sectors – the bulk of Australian manufacturing.
Australia is not the only country to be affected adversely by high exchange rates.
"There are other countries that have experienced high exchange rates over many years — the Nordic countries, for example, he says.
"They've learnt to operate in a high exchange rate environment and a high-wage environment by the way they undertake business and, in particular, by focusing on quality, design, branding, participation in global markets and supply chains."
And there is no reason why Australia cannot follow this lead. Professor Green says we are already seeing evidence of manufacturers having to change with the times.
He cited family-owned textile manufacturer Textor as a prime example.
The Melbourne-based company has formed a strategic alliance with multi-national personal car giant Kimberley-Clark and the CSIRO to develop unique technology for a new range of Huggies nappies. Scientists from the three organizations have been working closely together on the new product, known as 3D UltraAbsorb.
But unfortunately companies like Textor are an exception, rather than the rule, says Professor Green. To grow, manufacturers must re-position themselves into high value-adding segments of world markets.
"We must ensure we gain a competitive advantage through design, quality, uniqueness and new strategies," he says.
This is known as Smart Specialisation. "We must identify the key technologies and capabilities where we have existing or a potential competitive advantage and mobilizing resources around those, says Professor Green.
"We shouldn't try to do everything."
Professor Green says the proposal to create a number of Industry Innovation Precincts under the government's $1bn Plan for Australian Jobs is a step in the right direction.
Under the plan, up to 10 Industry Innovation Precincts will be created at a total investment of $500 million. The precincts will bring industry, firms, research institutions, technology experts and government agencies together.
They will collaborate on creating new business opportunities, deploying technology, R&D, and carrying out industry-led research projects.
Industry and Innovation Minister Greg Combet says the goal is to build more medium-sized Australian firms, which can compete in world markets and sell their goods and services into global supply chains.
Professor Green believes this is the key to future for Australian manufacturers. "At least we now have a commitment to develop deep relationships between companies, universities and research bodies such as the CSIRO," he says.
This will create industry clusters focusing on the technologies and capabilities in which Australia excels.
"We have less than 2 percent of the world's R&D, so we can't be excellent at everything, says Professor Green.
"But we can pick and choose – and that's what Smart Specialisation is about. We have to develop innovation eco-systems through a Smart Specialisation strategy and identify the things we do well."
Professor Green says the automobile industry is a case-in-point of an industry sector in a prime position to "re-invent" itself. "We have huge car-making capabilities … and are one of few countries in the world to have that.
"But if it turns out we cannot make a whole car, it may be more viable in the long-term to become the world's best manufacturer of a particular component, such as a rear view mirror. Then every car company in the world may want our rear view mirrors.
"Down the track we may add windscreen wipers or another accessory and become part of a global production system."
Professor Green says government cannot underwrite or subsidise the current activities of automobile manufacturers forever.
"We have to think about the long-term, he says.
"Some (automobile manufacturers) are already divisifying into other areas like defence electronics and aerospace.
"We need to identify areas of activity where we have a long term competitive advantage. We have to become a more specialized player in the global production system.
"If that means we can't produce whole cars anymore, then so be it."
Professor Green says a "technology foresight" is long overdue.
Before establishing Innovation Precincts, the government should identify the enabling technologies and capabilities that will give Australian manufacturers a longterm competitive advantage.
"This should have preceded the Industry Statement," he says.
Professor Green says obviously Australia's mining boom will not last forever.
"So beyond the mining boom we have to think: What comes next?"
"Knowledge based products and services are obviously the way to go.
"It will be important to management capability, in particular to engage with creativity and talent in workplaces. This is the key to productivity enhancement and innovation."
Professor Green says there is one school of thought that Australia should not be involved in manufacturing or try to compete against countries with much cheaper labour and production costs.
"This is very dangerous thinking in my view."
There are three key reasons why Australia must retain a commitment to manufacturing:
• Jobs – Manufacturing creates high quality jobs and is a great source of skills. Manufacturing also has a spinoff effect by providing jobs in other sectors including construction and telecommunications.
• R&D (About one quarter of Australia's R&D expenditure is in manufacturing)
• Current Accounts – without a strong manufacturing sector Australia would have to import more products and services and borrow funds to do so. If we have to borrow "expensively" the consequences are obvious.
But Professor Green remains optimistic for the future.
It's not all gloom and doom, he says. "Some with niche products and capabilities will survive and do well, others may do less well and indeed may not survive."
But whether manufacturing can remain successful will depend on the re-positioning," Professor Green says.
"We're not a low cost economy anymore. We cannot survive through traditional manufacturing. We have to do things that are unique … that are specialized and that are successful … based on ingenuity from researchers and education institutions."