WHAT CAN YOU LEARN FROM THIS LOCAL LEAN MANUFACTURER?
06-07-2016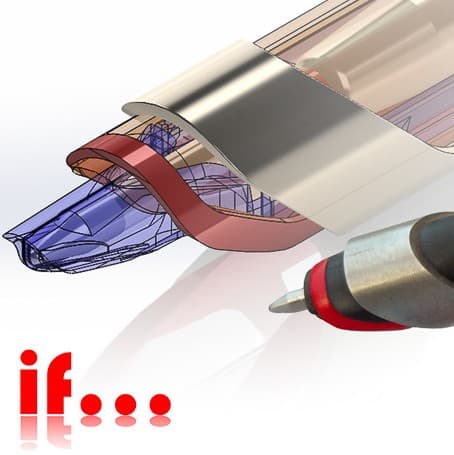 Sometimes it's the smallest and simplest ideas that have the most impact, and this one might matter in more ways than you'd think.
Using a variety of Australian manufacturers, experts, and ideas, David Colliver is making a step back towards Australian-based lean manufacturing with his "if… pen".
It's more than just a sleek writing device: it's aimed to be an example to the industry of what is possible when you think lean and go local.
"So many efficiencies can be dealt with in the design phase, said Colliver, who is aiming to "shed light on what is possible in lean [manufacturing]."
The body of the pen is a single-piece injection moulded titanium barrel, with a clip that's part of the core body, and can't be broken off or bent.
Instead of a spring-loaded cartridge, a simple squeeze grip can retract or deploy an integrated pen cap.
The only parts that are not manufactured in Australia are the German ink cartridges and the rubber grip, allowing them significant flexibility.  If they manufactured abroad, they would be significantly restricted in terms of their order size, and be unable to respond quickly to shifts in demand.
"Keeping it local is an advantage," Colliver said. "You can go to China for tooling and save 20%, but then it comes back and it doesn't work is fixed here, and you are paying 50% more."
As a case study for lean manufacturing, local supply chains, and crowdfunding production, Colliver and his if… pen might well be the perfect example for those looking for a future in the industry.
For more information, visit the Kickstarter campaign (already half-funded with significant interest): https://www.kickstarter.com/projects/dcid/if-pen