WHAT A BLAST: NEW MOBILE CHAMBERS FROM PROTOBLAST
13-02-2015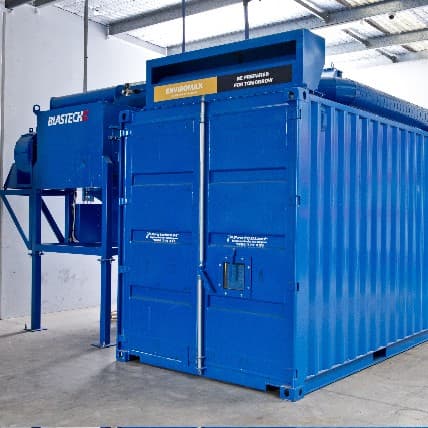 NSW based blast specialist Protoblast recognises the changing needs of its customers and has adapted its services to provide the perfect solution. 
"The feedback we have been getting is for a reduction in capital cost and the need for businesses to have mobility with their capital equipment," explains Protoblast MD Colin Noble.
"This also solves many issues for Contractors who may need to move from site to site and users with a smaller capacity requirement and who do not want to go to the expense of building a permanent facility."
In response to demand, Protoblast has developed a low cost, low maintenance, easily transportable Container Blast Chamber.  
The fully containerised blast chamber is easily and quickly assembled on site and just as easily packed up again and transported to the next site.
Protoblast has been designing and building abrasive blast machinery and ancillary equipment since 1975, and the size and mobility of this unit has not compromised its performance. 
"This blast chamber is fitted with all the latest technology of abrasive recovery giving the best the market has in abrasive cleaning and dust collection technology," said Mr Noble.
This is the latest addition in a long line of Protoblast developments from custom designed, self-contained blast chambers to fully automatic blast machines to process a wide range of products, from snow skis to large ingot moulds, to shipyard requirements.
Protoblast provides cost effective solutions from small custom to large turnkey projects, providing ongoing support and maintenance programs to suit customers' requirements.
Protoblast Company
1800 772 320
www.protoblast.com.au