WELL HELD - AUSSIE LEADERS SHARE THOUGHTS ON MATERIALS HANDLING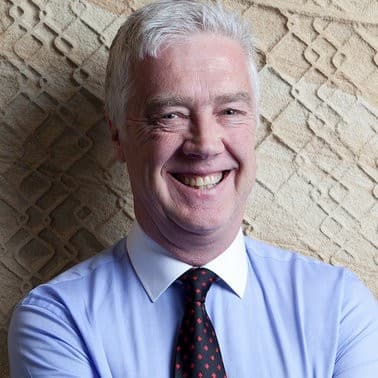 Pete Jeans looks at the business of materials handling and seeks the insights of Brett Ambrose of Blum Australia and Chris Spence of Hyundai Forklifts.

The days of merely carrying out a warehouse site inspection at each location to review materials handling, forklifts and racking needs in order to develop efficiency improvements are probably largely over.

The materials handling industry in the USA defines materials handling broadly as the movement, protection, storage and control of materials and products throughout the process of their manufacture and distribution, consumption and disposal.

According to the MHI website: "This process involves a broad array of equipment and systems that aid in forecasting, resource allocation, production planning, flow and process management, inventory management, customer delivery, after-sales support and service, and a host of other activities and processes basic to business."

"Solutions include sophisticated techniques that expedite information flow, including RFID and satellite tracking systems, and the electronic transmission of order and shipping information. These innovations along with traditional material handling and logistics equipment and systems are the solutions that make manufacturing and supply chains work."

Wow! That's some mouthful! But very real and relevant in our digitally connected world!

The reality is that supply chains contain multiple materials-handling platforms, processes and approaches to particular organisational and market challenges and cost streams (rather than revenues).

Leaders like me, I guess, probably have tended to rely historically on their ops leaders to drive continuous improvement via judicious capex through the supply chain and materials-handling side of the equation.

Not any more. The opportunity to initiate supply chain task projects, I believe, is squarely on the Group CEO's list of KPIs; particularly when the potential to unlock efficiencies and deliver savings could be substantial. A buck saved, is a buck earned.

Who does it well in Australia?

Brett Ambrose is CEO of Blum Australia; well known for its high-stack warehousing and materials-handling solutions in servicing furniture and cabinet-hardware customers throughout the nation.

Blum was ahead of the game and still is when it comes to major supply-chain components like materials handling.
I asked Brett what were the key reasons, drivers and outcomes for Blum Australia in its investment in leading-edge materials handling solutions?

"Blum has around 15 ASRS's or high-bay automated warehouses operating around the world. As Australia is one of the larger markets for Blum, it was logical for Blum to construct and operate one here. What also suited our operation here was that as Blum Australia sells through a distribution network, we are moving larger pallet quantity orders through the warehouse rather than small picks. This suits the particular ASRS installed at Hoxton Park."

"With the ASRS, our customers benefit from this facility in a number of ways: 100% inventory accuracy, increased warehouse capacity on a much smaller footprint; and a simple process of adding additional cranes and racking to our original site."

"With the additional storage capacity and the speed of the cranes, we have been able to double our output with minimal increases in staff numbers. As the warehouse is a machine-only site, we do not have the usual safety issues a typical warehouse with standard pallet racking would have," he concluded.

In the forklift industry, Chris Spence is Chief Operating Officer of Hyundai Forklifts in Australia.

Interestingly, the company's website focuses on the benefits of using the product from an operator's viewpoint: "a forklift operator, who enjoys his work, does a better job. That is why we at Hyundai do everything we can to make that happen. We have merged operator preference, fast precision and lasting performance into a quality product."

I asked Chris what were the key materials-handling issues and challenges at the client level in Australia now and in the future in major Australian user sectors.

"Our current focus in supporting our clients is to continue to innovate flexible and transparent rental solutions for the MHE market. The traditional fully maintained rental offering no longer suits many larger corporates that are always looking at ways of achieving cost down structures. Hyundai has globally been at the forefront of technological innovations and is now looking to partner this with a more customer centric approach to MHE rentals."

"In regards to technological advancement, Hyundai will continue to produce new models to meet growing client demand and given our global footprint, we are able to take industry best practice from across the globe and implement it here in Australia."

"The introduction of driverless equipment and full automation will start to impact in some operational environments, but given the diverse and irregular tasks undertaken in many of the shared operations, we expect it to be some time before automation takes the lead over operator controlled machines," he concluded.

Pete Jeans is COO of strategic growth project leader SMO Sydney.