WELDING QUALIFICATION TO SUPPORT QLD DEFENCE INDUSTRY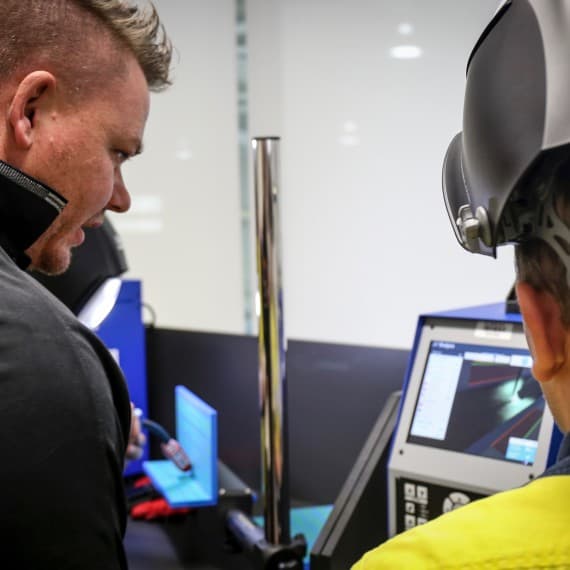 TAFE Queensland, Weld Australia and the Queensland Government are revolutionising the training of welders in the state by offering a new ISO 9606 course in fusion welding that uses state-of-the-art augmented reality technology.
ISO 9606 is the international standard required for welding of materials in the defence and maritime industries.
In 2017, Weld Australia and TAFE Queensland identified a national shortage of welders qualified to this standard, with only 17 people in Australia holding the registered qualification.
To address this shortage and give Queensland businesses the opportunity to support the defence and maritime industries, TAFE Queensland began offering the Course in Fusion Welding to ISO 9606 for Experienced Welders.
The course, the first in Queensland, was developed in response to the Federal Government's commitment to spend $200 billion in defence services over the next two decades.
An $800,000 investment from the Queensland Government enabled TAFE Queensland to purchase 15 new 3D augmented reality welding simulators for training in this specialised programme. The funding also coincides with the $5 billion Land 400 phase 2 defence deal, which will see Queenslanders play an integral role in manufacturing a new generation of combat reconnaissance vehicles for the Australian Defence Force.
Brad Geraghty, Technical Manager of Brisbane-based manufacturing company Minecorp, was one of three employees to complete the pilot program at TAFE Queensland's Acacia Ridge campus in March, which he says he hopes will open up new defence supply chain opportunities for the company.
"Having qualified welders to an ISO standard allows us the ability to not only sell our capabilities to the defence sector, but also to the global markets," he says.
"It was incredibly valuable to upskill and gain knowledge about the codes of practice and the ISO standards we need to meet and then how we should apply them on real world welds."
The ISO 9606 program is fully funded by the Queensland Government, which means that there is no cost to eligible employers choosing to upskill workers.
TAFE Queensland CEO Mary Campbell says the course will provide an opportunity for local manufacturing and engineering businesses to upskill welders to an international standard, opening up opportunities for upcoming defence industry contracts.
"The growth in the defence industry and building sovereign defence capabilities provides enormous opportunities for Queensland manufacturing, maritime and engineering businesses, and the ISO 9606 program will support them in upskilling their workforce to capitalise on these opportunities," she says.
"We predict that there will be a growing need for qualified welders as well as those trained to an international standard and we want to make sure that the Queensland supply chains that will be utilised in this growth area are upskilled to the ISO standard.
"The opportunities for Queensland to support the state's manufacturing and defence industries during this growth period will equate to a stronger economy and more jobs for Queenslanders."