Published 22-09-2021
| Article appears in October 2021 Issue
Welding Cell with a Built-In Cobot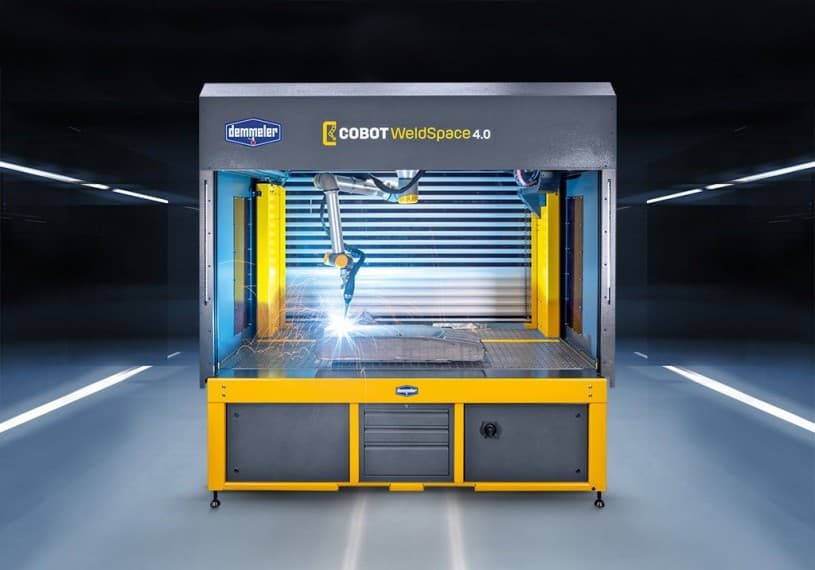 Leussink, the exclusive Australian distributor of Demmeler 3D Welding table solutions, has expanded its range with the new Demmeler WeldSpace system, a fully equipped welding cell with a built-in welding cobot.
Leussink's Managing Director Jason Leussink says the new Demmeler WeldSpace system is ideal for small and medium-sized companies with moderate production volumes.
"Like other cobot (collaborative robot) systems, the WeldSpace can significantly increase productivity levels. The cobot works alongside humans, taking on dull, repetitive tasks, reducing human error, and allowing humans to be more productive.
The intuitive user interface of the Demmeler WeldSpace programming and operating concept (DWSP) for operating the cobots makes it straightforward for employees without programming knowledge to easily learn to control the robot.
The cobot can be moved by hand to the place where welding is to be started and stopped. Intermediate waypoints and sections are also programmed. This allows the operator to create professional welding programs with the touch of a button.
The Demmeler WeldSpace cell has two large and easily accessible working areas – Space A and Space B with a length of approximately 2,400 mm in the standard version and requires little floor space. It even has indentations for the forklift forks. The enclosure opens on both sides (roll-up doors) and automatically moves from the front to the rear work area.
The optional manipulator can move a workpiece independently by up to 360 degrees so that there are no blind spots when machining it.
To learn more about the COBOT WeldSpace 4.0 from Demmeler visit https://www.youtube.com/watch?v=153xrDZ6-6s&t=9s
As well as the new WeldSpace, the Demmeler welding table is an ideal partner product for a cobot. The Demmeler 3D workbench and welding table is suitable for all types of welding and fabrication work and can be set up easily and precisely for a cobot.
"Working in partnership with robotic experts, we develop cobot-based systems for clients in a range of industries, enabling them to meet many different requirements.
"Leussink can create welding and fixturing solutions for the Australian market that stand the test of time. We work with our customers to capitalise on efficiencies and productivity, without compromising quality and accuracy," concluded the company.
For more information contact Leussink on 02 4260 7777 or visit https://www.leussink.com.au/ Leussink provides modular fixturing solutions that revolutionise workshops and production facilities around Australia, in partnership with trusted industry-leading German brand Demmeler.