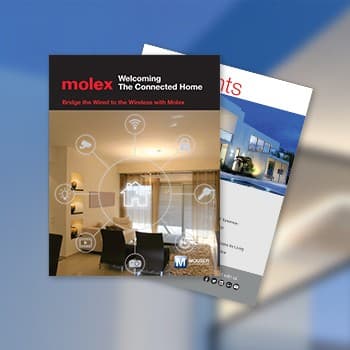 Mouser Electronics and Molex have released an eBook, Welcoming the Connected Home, in which subject matter experts from both companies examine current and future trends in home automation and strategies for designing Internet of Things (IoT)-enabled devices, as well as specific smart home solutions from Molex.
The global smart home market is expected to be worth more than $50 billion by 2022. From lighting, heating and appliances to home assistants and security systems, smart homes allow residents to interact with and program their living spaces to react to and even predict their needs. As more devices are added, artificial intelligence will enable home automation to evolve and better serve our preferences.
The book covers a number of topics related to connected homes, exploring both current strategies and future possibilities, including tips on how to connect devices to the IoT, an exploration of upcoming capabilities in intelligent integration, and a survey of Molex products designed to serve specific smart home applications.
To read Welcoming the Connected Home, go to www.mouser.com/news/molex-ebook-2019/mobile/index.html. To learn more about connected home solutions from Molex, go to www.mouser.com/molex-connected-home-solutions.
Mouser Electronics
+852 3756 4700
au.mouser.com