WEED KILLING MACHINE ENTERS COMMERCIAL PRODUCTION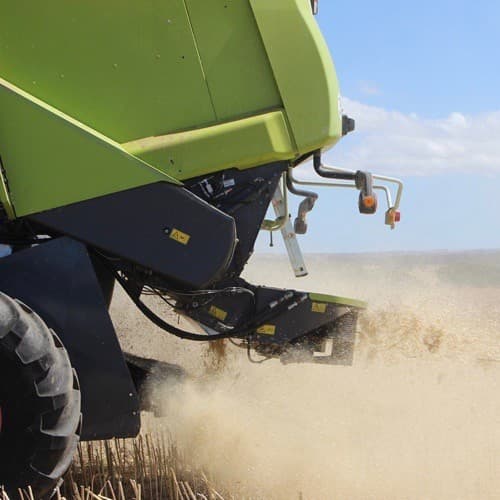 An emerging South Australian company has developed a modular manufacturing system to increase commercial production of its flagship weed-killing machine, the only mechanically driven unit of its kind.
The Seed Terminator, which can be retrofitted to new and used headers, uses a multi-stage hammer mill to pulverise weed seeds as crops are harvested. Tests by the University of Adelaide's Weed Science Research Group have shown a 96 to 100 per cent kill of rye grass seeds using the machine. Testing has been focused on rye grass seeds because of their minuscule size and the fact they are notoriously difficult to kill.
The machine's 'one-pass solution' spreads the nutrient-rich pulverised weed seed debris 10 to 12m behind the harvester to act as fine mulch for soil improvement. It also reduces the need for herbicides and labour-intensive burn-offs to keep weeds at bay after harvest.
The Grains Research and Development Corporation estimated in 2016 that weeds cost Australian grain growers about $3.3 billion annually, with yield losses of 2.76 million tonnes. The corporation also estimated herbicide resistance costs farmers $187 million a year for herbicide treatment and other weed management practices.
Invented in South Australia, the Seed Terminator has been in production for four years following the release of nine pilot units in 2016, 23 in 2017 and 50 last year, which have taken part in 121 full field trials on a range of crop types in major grain growing regions in Western Australia, South Australia, New South Wales and Victoria. It has undergone design improvements after every season, and is now ready for full commercial production.
The company was founded by its inventor, Kangaroo Island farmer Dr Nick Berry, and his uncle Mark Ashenden, and is now based at Flinders University's New Venture Institute in the Tonsley Innovation Precinct in Adelaide's southern suburbs. They are working with four manufacturers in South Australia and one in Western Australia to establish a modular manufacturing platform to enable continued growth, and with two other Adelaide companies on electronics and advanced manufacturing aspects of the process.
"We think this year is our first true commercial release after three years of trials with a growing number of partners," Ashenden says. "We're designing a manufacturing plan around making 100 units this year and of that about 10 will be for export, 10 purely for research purposes and 80 for domestic sales in Australia. We've also now engaged multiple dealers of all different brands across Australia and the information they are feeding back to us is brilliant.
"We're building a modular manufacturing system where each module is capable of doing between 25 and 50 units a year and we've got four of them in Adelaide and one in Western Australia. Last year was about developing the capability of making 100 but stopping at 50. This year it's about proving we can make 100 and working out with those modular systems how quickly we can deliver. We want to work at reducing the time from order to completion to get it down to four to six weeks."
Western Australia is the largest market in Australia, and Ashenden says farmers there have shown themselves to be early adopters in weed seed management, trialling 65 of the 81 units currently in the field.
"Australia produces about 4 to 5 per cent of the world's grain and we think there's a possibility of about a 10 per cent market share in Australia so that's about 300 machines a year," he says.
"The potential export market is multiple times more. North America is a much bigger market so it has the potential to grow a lot faster than it has here in Australia and the beauty of it is there is probably as much demand in Canada as there is in the whole of Australia yet it is condensed into about a third of the geography."
Seed Terminator
0418 106 177
www.seedterminator.com.au/