WEB ON A CHIP FAST-TRACKS ELECTRONICS DEVELOPMENT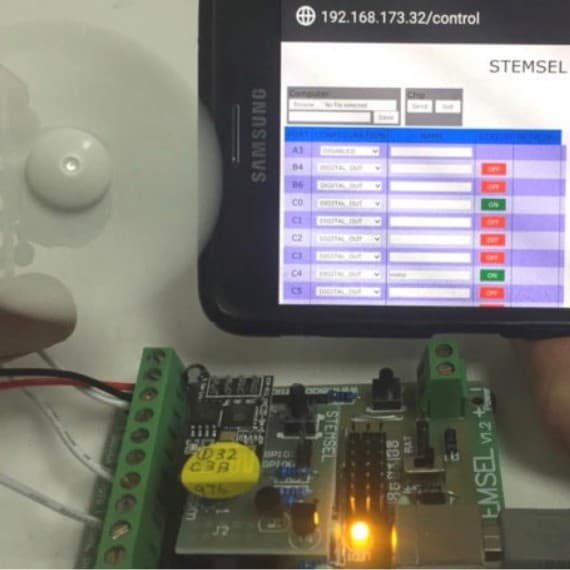 The creation of IoT and AI applications is being simplified by a new electronics development platform using the Internet to allow programming directly onto a microchip.
eLabtronics, the South Australian developer of the runlinc platform, says this will soon become the "gold standard" for building electronic devices drawing on internet-based resources.
Unlike other prototyping systems, such as Arduino, runlinc's platform and corresponding web page are already on the Wi-Fi chip, dramatically simplifying the programming process.
"It is a very disruptive technology – it is wireless – and one day there won't be any more cables needed for programming," inventor and eLabtronics Technology Manager Miroslav Kostecki says.
"Normally you'd have to go to the computer, do the programming, create some sort of interface and put all the things in to create a server and put it on a chip, go back and forth and do the de-bugging.
"Our web server is already on the chip so for the first time ever, the programming is no longer done inside the computer – runlinc is basically a single web page but it is sitting inside the Wi-Fi chip."
The technology has been in development for five years and received global patent pending status in January.
Recent testing of runlinc against Arduino asked a team of six post-graduate students to build a web page and create some buttons to control two LED lights. They completed the task in 30 minutes with six lines of code with runlinc, compared with 30 hours and more than 120 lines of code with Arduino.
Runlinc has also been used in IoT tests to complete employer hack-a-thon tasks in record time.
eLabtronics CEO Peng Choo says the new platform is being rolled out as fast as possible "from the ground up" by teaching young people how to use it.
He says the company is applying for a grant from the Centre for Defence Industry Capability to teach runlinc to school students as young as eight years old as part of the Australian Government's focus on STEM education.
"The platforms at the moment are either too simple – like Lego – or too hard like Arduino," he says.
"We've actually invented something where suddenly they can do Artificial Intelligence, Internet of Things, they can create their own web pages and little apps from an early age.
"Runlinc is so easy to use that even upper primary school students can get started so can you imagine what it also does for industry when it's that easy."
While potential applications for the technology are almost endless, early uses include DIY smart home kits and IoT-enabled sensing devices for farmers.
eLabtronics was started by Choo and Kostecki in 1994. It launched a not-for-profit education arm called Stemsel in 2009, which aims to teach disadvantaged children how to use electronics in combination with Social Enterprise Learning. It operates in Bhutan, Brunei, Cameroon, India, Kenya, Kyrgyzstan, Malaysia, Nepal, the Philippines and Thailand, as well as Australia and the US.
eLabtronics
08 8231 5966
www.elabtronics.com