WEARLON EXTENDS STEEL ROPE LIFESPAN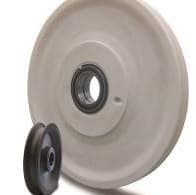 Wire ropes are stressed by fluctuating forces, by wear, by corrosion and by extreme forces.
Ropes that run over sheaves made from metallic materials are subject to high stress due to the surface pressure that occurs between the rope and the groove.
When the rope rolls over the sheave, only the outer strands lie on the groove. The result of this is wear in the form of individual strands breaking or, more serious, rope breakage.
Sheaves made from the Wearlon range from Cut To Size Plastics prevent this due to their elastic behaviour.
The pressure between the rope and the roller in the combination steel rope/polyamide roller is around 1:10 compared to steel rope/steel roller. Surface pressure between the rope and the roller is reduced, considerably extending the life of the rope.
Cut to Size Plastics
Ph: 02 9681 0400