WEAK DOLLAR GIVES MANUFACTURING A BOOST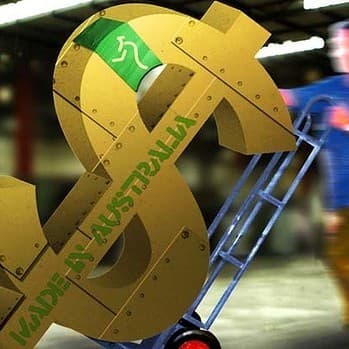 Manufacturing conditions are well above where they stood last year, thanks to low interest rates and a sharp drop in the Australian dollar.
According to a new survey the manufacturing sector after spending several years in the doldrums is showing better job prospects and investment opportunities.
Although manufacturing growth moderated slightly in the September quarter, results remain well above those of 2014.
The Westpac-Australian Chamber of Commerce and Industry survey of industrial trends showed its composite index easing to 56.7 points from 58.4 in the June quarter, but remaining comfortably above its historical average.
Westpac senior economist Andrew Hanlan said a 25 per cent drop in the Australian dollar in the past two years and low interest rates have been a positive for business.
"The manufacturing sector is on the right side of both of these developments," Mr Hanlan said last week.
The report's labour index has also improved over the past two years.
"The survey certainly suggests that a strong jobs performance can continue into 2016," he said.