WAREQUIP WELCOMES THE POLARIS BRUTUS TO RANGE
06-09-2016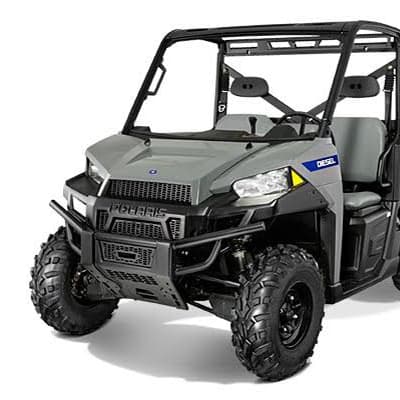 Here at Warequip we pride ourselves on our innovation and our ability to customize any piece of equipment to fit our clients' purpose, which is why we're proud of the Polaris Brutus.
The Brutus is the newest vehicle we have added to our extensive fleet of hard-wearing vehicles.
It comes standard with a 24 horsepower, 904cc diesel engine, hydrostatic accelerator pedal with forward and reverse gear for increased mobility, on-demand true all-wheel drive, and a massive 567kg cargo capacity as well as a 907kg towing capacity.
For added comfort Brutus HD comes standard with a fully enclosed cab with heat, defrost and air conditioning.
The Polaris Brutus is compatible with all Polaris Lock and Ride accessories. These include full doors and windscreens, plus a range of Brutus HD specific accessories such as a snow blade, pallet fork, material bucket, finishing mower, angle broom and snow blower.
These accessories also have the option of having front-powered take off.
Ideal for parkland and golf course maintenance as well as farming, the Brutus HD can be setup to tackle any task you might throw at it.
We stock a full range of parts and accessories for all your repair and service needs.
Our entire range of vehicles can be customised to any specification, contact us to organise your needs today.
Warequip
www.warequip.com.au