Warequip launches new range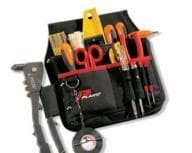 Warequip has released a new range of innovative Plano Europe products.
The Plano range includes tool stops to secure tools for people who work at heights.
It also features polyethylene toolboxes, polypropylene parts organisers, professional tool holders, tool bags and accessory pouches as well as knee pads which offer different levels of comfort and more.
Established in the US in 1932, the Plano brand has become synonymous with quality, innovation and attention to detail for professionals throughout the world.
Plano was the first in the world to produce quality polypropylene toolboxes. 
Plano Europe quickly positioned itself at the forefront of the sector.
The versatility, unique style and superior quality of this range allows it to be used in a variety of applications and environment's including building, warehousing, film industry and DIY. 
Over the years Plano has created a range that goes beyond simple functionality.
It has put together innovation and tradition, ergonomics and design, including Technics bags, belts and vests, made from the latest generation of highly resistant materials.
Warequip is currently looking for distributors interested in becoming Plano resellers.