Warequip gives patients a much-needed lift
31-08-2010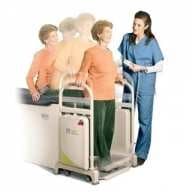 Warequip Healthcare has released an innovative new product for patients in the healthcare system across Australia.
The Brewer Liftmate is a mobile patient lifter to help prevent patient falls and assist patients on and off examination or procedure tables or any type of examination surface. 
The fully portable device can be set to ascend and descend from low to high levels.
It can be rolled through standard doorways and hallways and has the ability to provide patient ergonomics to multiple rooms.  
The Brewer Liftmate also reduces the risk of injury for clinical staff assisting patients. 
It also eliminates the need for expensive powered examination tables for each room.
With increased bariatric (obesity treatment) and elderly patients entering our healthcare system the Brewer Liftmate provides solutions to many mobility challenges. 
The Brewer Liftmate is a simple design that works with any standard exam table, bed, or elevated surface. The patient steps onto the platform and is raised to a comfortable seating height.    
Brewer Liftmate has a built in battery pack, hand held control, 220kg capacity. It is lightweight and convenient to use. 
Warequip Healthcare
Ph: 8378 7700