WAREHOUSES NEED DIGITAL SAFETY INSPECTIONS SYSTEMS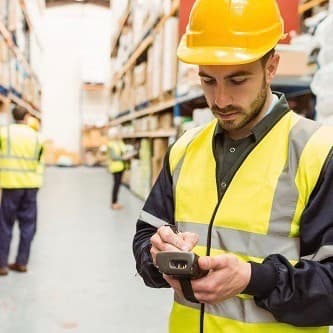 Ensuring employees' and warehouse operators' safety at work should be priority; however, often little is done by management to pursue and continually better a company's safety standards after an initial racking system has been implemented. Companies that do not update their safety inspection methods are failing to acknowledge and adapt to modern materials and practices, which can seriously jeopardise safety standards.
Rack safety inspections are typically conducted using a paper-based checklist system, which is labour-intensive and inefficient. Inspection software companies assist companies to transfer these checklist into more reliable, accessible digital formats, meaning inspectors can continue their routine inspections without worrying about the data they collect on paper being damaged or misinterpreted, or spending time on data entry, a common trend with paper-based systems.
To ensure safety levels are met, it is recommended that regular audits for pallet racking systems should be conducted at least once every 12 months, in accordance with AS4084-2012 (sections 8.1 General and 8.2 Inspections).
For rack systems in heavier use, it is recommended that inspections are conducted more frequently, simply as there is more chance of damage occurring; for example, a forklift may have damaged the infrastructure without anyone noticing, or racks may not be being loaded correctly. Consider your employees and warehouse operators: by enforcing professional safety standards you're promoting a culture of safety and high standards within your company.
Inspection procedures can be automated by a digital checklist with inspectors reporting defects and non-conformances. When a safety level is not met, a pre-inputted response is triggered automatically. This not only saves time and ensures the accuracy of the collected data, but also informs all the relevant personnel of the correct action to take. This digital inspection can be exported into a PDF or Excel document to be printed or emailed to the relevant stakeholders.
The long-term benefits of a digital inspection system are numerous, with detailed data that demonstrates a company's ongoing efforts to enforce safety standards. Inspectors can review past trends and forecast future scenarios to which companies may need to give additional attention.
Ultimately the risks of failure to meet AS4084-2012 can range from damage or loss of inventory and business shutdowns to injury, death and litigation. It only takes a simple mistake to result in devastating consequences, so it's up to the organisation to prevent these mistakes from occurring.
Choosing the correct digital inspection software supplier is critical for the best performing digital safety system. When choosing a supplier, it's important to consider its history, including how long it has been around, and if its knowledge can be put to use to benefit the company. A data specialist can advise the company on recommendations and best practices when creating checklists.
Furthermore, it's best to avoid free programs or apps as these are often limited and do not offer any support or assistance. They are good to trial the convenience of digital inspection but do not compare to the assistance and expertise that premium inspection software offers a company.
Pervidi
03 8862 6485
pervidi.com.au/