Warehouse Trolleys – an essential manual handling solution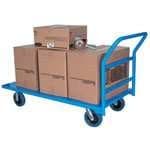 A warehouse is basically a building, where raw materials, goods and finished products are stored. Since these materials, goods and products are in bulk, it is not possible to handle them all manually.
This is where, the need for various materials handling equipments arise. One of the most common type and the most essential type of such equipments are – trolleys.
Although there are numerous varieties of trolleys, which you do see all around you (think of airports, mega stores, malls, hospitals et al) the best variety used in warehouses is warehouse trolleys.
These materials handling aids are designed to carry heavy freight and transport them effortlessly from one place to another. In other words, it reduces or completely eliminates the need to manually handle the goods and materials, thereby preventing potential injuries to the workers.
Based on what its use is, these trolleys are designed accordingly. For instance, they can be made from various materials, which include but are not limited to – plastic, metal, wood or a combination of all these. Similarly, they can be single platform or multi-decked, caged, lockable, powered, foldable or non-foldable depending on specific requirements.
Fitted with sturdy wheels and pneumatic castors, these can be used on different terrains and environments, making them apt for warehouse usage.
So, these are some of the attributes of warehouse trolleys. If you too own a warehouse and want to buy these for your use, then go online and search for the best stores, which will provide you the best products.