WAREHOUSE MANAGEMENT SOFTWARE ADDS NEW LEVELS OF INTELLIGENCE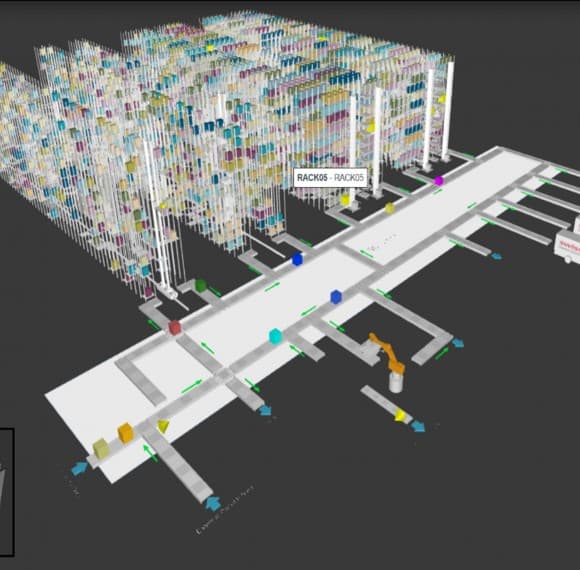 Swisslog has released the latest version of its SynQ materials handling software, which provides warehouse management, material flow, automation and 3D visualisation all from a single point of control.
The SynQ software (the name is a combination of synchronisation and intelligence quotient) has been designed for dynamic, data-driven supply chains, such as those that drive companies in industries such as food and beverage, automotive, e-commerce, manufacturing, health, pharmaceuticals and transport.
SynQ software is already installed in applications across these industries locally, including leading food and beverage, transport and pharmaceutical companies in Australia and New Zealand.
"SynQ expands beyond the scope of existing warehouse management systems without leaving the customer behind. Backwards compatibility is built into each new version of the system, which means that it can be seamlessly integrated into any existing operations and it will work with older software as well as the latest versions," says Sean Ryan, Head of Sales and Consulting, Swisslog Australia.
One key feature is the ability to continually record equipment condition by incorporating the measurement and analysis of physical values, such as distances covered, temperatures, energy consumption of individual elements and disciplines from state-of-the-art sensors into system reports.
The collected information can then be used to identify vital elements that are prone to malfunctions and draw conclusions regarding the potential error rates of individual disciplines and entire logistics systems.
Condition monitoring allows control centre employees to view the current system condition at any time, document the development of trends and evaluate failure risks. The goal is to turn the data and data analyses into decisions designed to improve the planning of operations and maintenance processes to prevent system failures caused by malfunctions and maintenance factors, especially those that occur during peak periods and are therefore particularly disruptive.
Preconfigured pages and charts simplify the management of KPIs. This solution uses the data collected by the hardware components using state-of-the-art sensors. Whether it is the energy consumption of a conveyor system, the deceleration path of a stacker crane, the number of movements of a shuttle or the temperature generated by the movements of a roller conveyor, continuous and seamless evaluations of the condition of all components and disciplines in a warehouse are achievable.
Through continuous monitoring and real-time data, warehouses can continuously operate at maximum efficiency to ultimately reduce operational costs. Furthermore, early-warning systems for malfunctions reduce downtime of critical equipment and allow a business to create calculated risks. Predictive maintenance is the next step towards Industry 4.0.
"SynQ provides advanced logistics operations with the flexibility to deploy only the modules that are needed at a given time, while intelligently synchronising automation equipment, robotics, people and processes for peak performance," says Ryan.
"The modularity, flexibility and backwards compatibility allows materials handling, logistics and supply chain managers to future-proof their operations and simultaneously capitalise on the latest technological advances driving industry 4.0."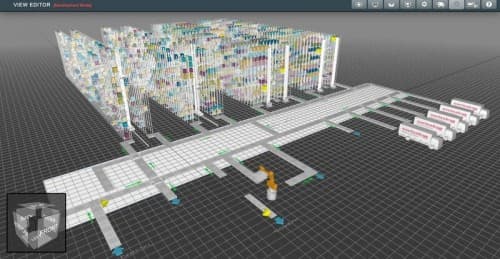 SynQ functionality, services and crucial supporting processes are organised around three pillars: collaboration, operations and intelligence.
The Collaboration Platform is the heart of Swisslog's software that makes integration possible. It includes all base software modules, such as those required for managing inventory or connecting to a host system. All testing, quality control and standards compliance processes are part of this platform.
"Swisslog's unique, easy-to-use, user interface for visualising and controlling all warehouse operations and machines features a single point of control, which improves operator efficiency and minimises human error," says Ryan.
Operational Services provide the actual shop floor processes in the warehouse, such as manual receiving or shipping, AutoStore cluster picking, and returns handling in CarryPick.
"Swisslog can also tailor our SynQ platform to the individual needs of particular sectors," says Ryan. "For example, we can incorporate receiving and picking processes for omni-channel distribution warehouses with shelf life and batch/lot controlling for the food and beverage sector."
"Or we can incorporate inbound and outbound processes, tracking and monitoring, inspection/quality assurance processes based on GMP/GDP and validation for the pharmaceutical sector. This level of customisation enhances the functionality of the SynQ software and ensures it is providing each customer with benefits tailored to their industry."
Intelligent Services provide add-on services within the world of analytics and business intelligence. This spans a growing number of manager apps, like Cockpit Manager, that can be deployed independently or as part of an integrated system.
Intelligent Services also include services provided by Swisslog's data scientists. Beyond the tools, these highly skilled experts provide the insights required to optimise business processes.
"With an increasing number of advanced data and analytical services, it can be a challenge to keep up with every piece of information. Swisslog's experts make this job much easier, and make the difference between a set of useful tools, and utilising these tools to achieve tangible results," says Ryan.
Swisslog Australia
02 9869 5900
www.swisslog.com