Warehouse chores too Easy with new Lencrow range
31-08-2010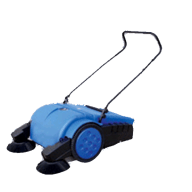 Dust control … the Easy Sweep from Lencrow
Choosing the right pedestrian warehouse equipment just became Easy.
Lencrow Materials Handling has added two new models to its Easy Range of powered pedestrian warehouse equipment.  
The new range offers users both quality and value.
Firstly, the Easy-E Stacker is a 1000kg stacker with 3000mm lift. 
Features include Gel batteries and adjustable straddle legs as standard. The unit is available in lift heights to 3300mm and is ideal for light duty applications.
The other new model is the Easy Sweep – a pedestrian operated floor sweeper with dust control. 
Most pedestrian sweepers rely on brushes alone to pick up dust and dirt. But in extremely dusty applications the dust is stirred up and can later settle on new stock. 
The Easy sweep employs a battery-powered vacuum, which causes dust to be drawn into the collection hopper. Air is expelled out through a filter eliminating dust, resulting in a cleaner floor than sweeping alone.
"We introduced the Easy range to make choosing materials handling equipment for small warehouse applications a simple operation," says Ross Grassick, Managing Director of Lencrow Materials Handling. 
"We have sourced the units from different manufacturers to make it a complete range, he says. "And all of these units have been tested and manufactured to comply and suit Australian businesses."
With 35 years' experience in materials handling, Lencrow offers a full service to customers to ensure their investment will be working for a long time. 
"We carry a full range of spare parts and offer service and repairs from trained service personnel for the complete Easy range of equipment, says Mr Grassick.
"With the addition of these units to the Easy range we now cover most, if not all of the needs of small to medium size warehouse applications."
Lencrow
Ph: 1300 536 276