Want your pumping problems solved the first time?
31-08-2010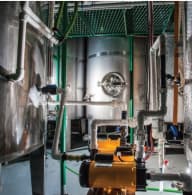 With a wide range of quality industrial pumps and over 35 years of experience in the industry, Global Pumps has a solution to any pumping problem.
Global's vast range includes air operated diaphragm pumps (AOD), Techniflo dump pumps, magnetic driven pumps, Verderflex hose pumps, tube pumps and more.
With industry demanding a reliable AOD pump, Global Pumps distributes the Verderair range, which is classed as the most efficient diaphragm pump, saving you money over the life of the pump.
Benefits of AOD pumps include:
They can run when dry
They are self-priming (the pump can be above the level of the liquid being pumped)
Non-stalling (preventing loss of downtime).
Global's Techniflo drum pumps are used to transfer chemicals and acids from 200L (44 gallon) drums and IBCs. Having many different options of materials such as polypropylene, PVDF and 316 Stainless Steel, makes them compatible with almost every fluid. Techniflo drum pumps are a great way to go from manual handling to an easier and quicker solution.
Global Pumps also offers the Techniflo magnetic drive pumps. These pumps have outstanding resistance to most chemicals and acids.
The mag drive pumps don't have any mechanical seals or gland packing eliminating the hazardous risk of leaks. The design of these pumps also enables them to handle hot liquids up to 121°C and down to -29°C.
In a recent application, a customer in Mt Isa who has changed the traditional pumps out for the Techniflo pumps because he replaced two in six months.
This Techniflo pump is still performing to spec without any intervention since 2007.
Verderflex peristaltic hose pumps are also available from Global Pumps. These pumps are ideal for transferring slurries and viscous liquids including shear sensitive products such as flocculants. They can run-dry, are reversible for clearing blockages and are ex-stock for quick delivery. The pumps can handle pressures of 16 Bar and flow rates of 150m3/hr.
Also in the Verderflex range is the industrial tube pumps. They are a compact design and have a flow range of 1L/hr up to 1020L/hr these pumps are used for pumping ink, chemicals and other viscous liquids.
Global Pumps, a major provider for industrial pumps, is an Australian based company founded in 1977 to fulfil the need for a versatile and service oriented specialist supplier for pumps and pumping systems. Global Pumps deliver complete solutions for customers throughout the world.