Want to save 70% on your power bills?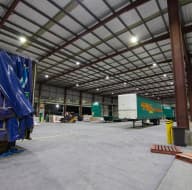 The Australian designed and manufactured Aqualuma Lightsource-R is now available to manufacturers.
With steadily increasing electricity costs now is the time to assess the amount of power your facility is consuming and examine ways to effectively reduce this expense.
The Lightsource-R provides significant energy savings while increasing lighting levels in all types of business – from small to large factories.
The Aqualuma Lightsource-R is corrosion, dust and waterproof and rated to IP66 allowing them to be fitted in both exterior and interior applications.
They are ideal for warehouses, distribution centres, workshops, factories, sporting facilities, shopping centres, car parks and many other buildings. 
With a 5-year, 24-hour 7 day operation warranty and the highest quality build incorporating either Cree or Luxeon LED's, Lightsource-R becomes the logical choice for companies requiring the highest possible efficacy (up to 142 lm/w).
With Lightsource-R there is no detectable flicker, CRI up to 85 and a light output of up to 24,400 lm from the 185W model.
The housing is manufactured from LM6 marine grade aluminium, which is powder coated for corrosion resistance,
Aqualuma LED Lighting have been designing and manufacturing high quality lighting products for the marine market from their factory in Queensland, Australia since 2004.
The introduction of ground-breaking commercial lighting products was the logical step.
With thousands of Lightsource-R units already installed in Australia, Europe, New Zealand & North America, Aqualuma's Lightsource-R the perfect choice in energy efficient LED lighting.