WANT TO LEARN HOW TO PREVENT CONCRETE CORROSION?
30-04-2015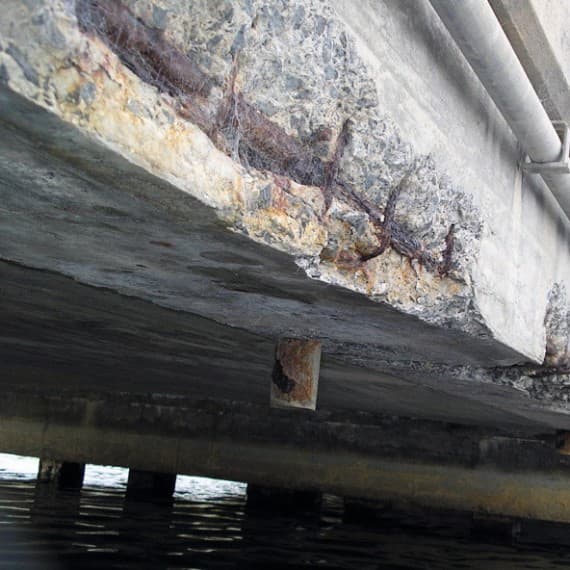 Corrosion affects concrete buildings and structures around the world.
These structures will all deteriorate at varying rates over time, depending on the material used, the types of corrosive agents in the environment and the physical processes and mechanisms involved.
The estimated annual cost of concrete corrosion is billions of dollars to national economies.
Owners of high-value assets should understand the cost implications of ignoring the effects of corrosion on concrete buildings and structures.
There are many advantages of planning for corrosion control and mitigation. Two of the main ones are that the life of an asset is extended and maintenance time and costs are reduced.
 The corrosion of steel in concrete is accelerated in harsh environments, especially coastal, tropical or desert, where high salt levels or extreme temperatures can accelerate the rate of decay.
Usually, the most exposed elements deteriorate first but because the active corrosion may take 5 to 15 years to initiate cracks in the concrete, much of the actual corroded reinforcement is not visible.
However, if corrosion effects are considered in the design phase and the right decisions made prior to construction, buildings can be built to last and protected for as long as possible.
As part of its on-going training program, the Australasian Corrosion Association (ACA) — in conjunction with the Australasian Concrete Repair Association (ACRA) — is holding training courses in key capital cities during 2015.
The first was recently held in Melbourne.
Further courses will be held in Adelaide (August) and Perth (September).
The ACA's own Corrosion and CP of Concrete Structures course will be held in Sydney in June.
The courses are aimed at Asset Managers, Port Engineers, Bridge Maintenance Managers, Building Managers, Heritage Structure Engineers, Plant Engineers, Consulting Engineers, Architects, Specialist Contractors, Construction Material Suppliers, Asset Condition Inspectors.
Anyone who would like to gain an understanding of corrosion control within concrete should also attend.
Trainees will be provided with a solid foundation of knowledge about the corrosion of both reinforcement and concrete, enabling those working in the field to reach more effective solutions in the prevention and remediation of this ever-growing problem.
For course details and bookings please visit: www.corrosion.com.au