WANT TO HOLOPORT ACROSS THE GLOBE?
28-03-2016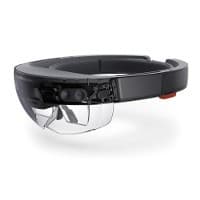 In a 'category creation' moment, Microsoft has created the HoloLens: a system that allows you to 'holoport' from conference room to conference room, and perhaps even further.

Dubbing the new technology a form of 'Mixed Reality', Microsoft is aiming to overlay the real world with a 3D holographic display, and record information, all in real-time.

The input can come from a multitude of sources, such as 3D cameras, or 3D design programs like AutoCAD or Maya. Microsoft's CEO is confident that this will revolutionise industrial design work:

"There's no going back [for industrial designers] once you've seen the output of what you're designing right next to you. You can imagine [for] architects, it's the same thing."

Technologies like Google Glass have promised an 'augmented reality' before, where information is overlaid on a display and projected over the user's view of the real world, but HoloLens promises real-time interaction with the displayed information.

The HoloLens headset can also be coupled with Microsoft's 3D recording system to beam a full 3D avatar of the user to another location, meaning real-time virtual meetings will be possible without the loss of important social cues, like body language and facial expression.

Microsoft's CEO has promised a developer kit by 2017, and hints at a dramatic range of uses: augmenting the office, 3D design, conference calls, and eventually home and gaming use.
Microsoft