Want clean floors? … get a Genie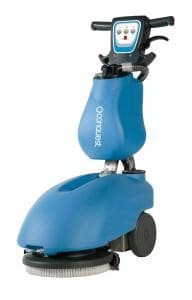 Simple design … the Conquest Genie B
The compact Genie battery floor scrubber dryer from Conquest Equipment Technologies, is the first small compact scrubber to enter the market.
Featuring cleverly designed tanks and a 180° folding handle, the Genie scrubs, dries and sanitizers in one pass.
Simple design, the Genie B is ideal for cleaning grime, stains and dirt in tight areas including around conveyors in factories, around food production equipment, walkways, canteens, kitchens and front entrances.
The 180º folding handle and compact scrubbing and vacuum system allows extreme maneuverability. This means you can now reach in and around obstacles where larger scrubbers cannot reach.  
Clip-off tanks ensure easy storage.
Conquest Equipment Technologies Pty Ltd