WALK BEHIND SCRUBBERS TAKE ON MORE INTELLIGENCE
30-11-2017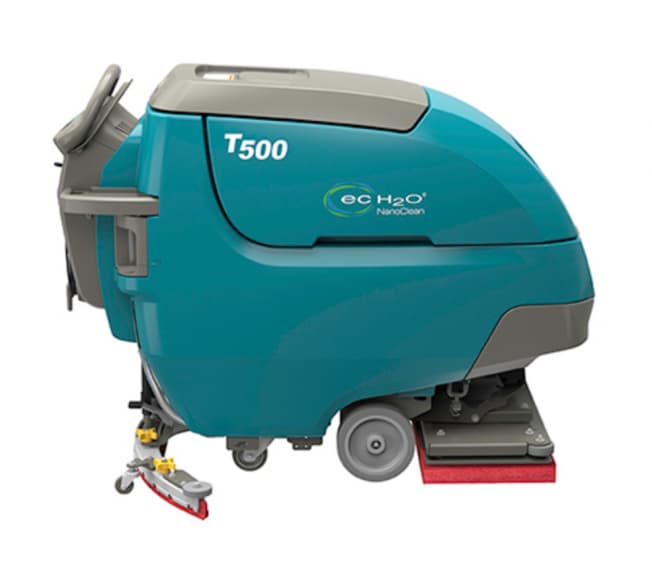 Tennant has brought its latest generation of automatic walk-behind scrubbers to the Australian market with the release of the T500 and T500e models, together with a novel web-based fleet management system that helps users to clean more intelligently and efficiently.
Featuring the company's new Smart-Fill automatic battery watering system, the T500 series answers one of the most common complaints from heavy-duty users – battery maintenance. The new system removes the need for the operator to manually check, open and fill flooded batteries, reducing the maintenance task considerably.
Other innovations in the T500 series include a new 700mm orbital cleaning head option that is claimed to effectively remove floor finish without using expensive detergents. It also features Tennant's ec-H2O NanoClean technology to reduce its environmental impact compared with daily chemical cleaning.
The new Iris Asset Manager provides full visibility of the user's fleet with a wide variety of reporting and monitoring capabilities including the delivery of key performance metrics and intelligent insights to increase productivity. It also allows users to view an analysis of costs to clean, allowing them to make informed decisions regarding where and how to reduce costs.
It also monitors battery usage and enables users to optimise battery charging operations and maintenance to extend the life of the battery, thereby reducing operational expenses and downtime.
Josh Hastings is Marketing Manager for Tennant Australia. He says: "The T500 line continues to deliver Tennant reliability and exceptional performance that our customers have come to expect across the ANZ market."
Tennant
1800 226 843
au.tennantco.com