THE WAIT IS OVER: NEW TENNANT T300 SCRUBBER IS HERE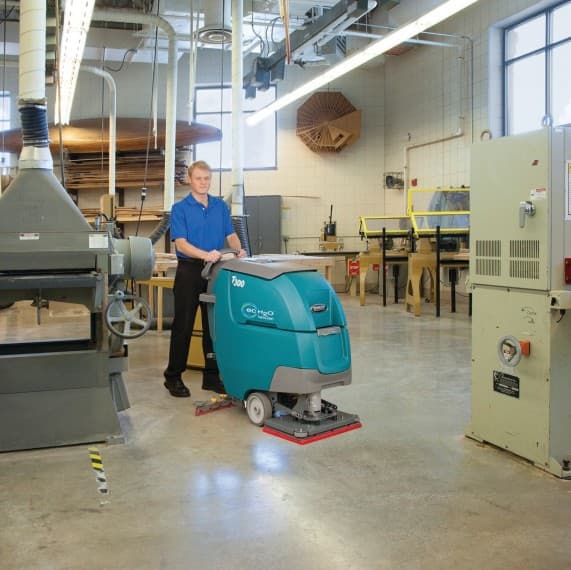 Tennant has unveiled its new T300 Walk-behind Scrubber, the first scrubber of its kind equipped with Tennant's next generation ec-H2O NanoCleanTM technology.
The T300 is loaded with innovative new features that deliver reliable, high performance results at a lower cost to clean.
This compact, easy to use, versatile machine provides unsurpassed cleaning performance on virtually any hard floor surface.
The T300 addresses key cleaning challenges for facility managers. It delivers outstanding scrubbing results to enhance a facility's image, whilst improving health and safety – and minimising maintenance costs.
The T300 is Tennant's most versatile machine to date, available with multiple configurations to optimise cleaning performance on most hard floor surfaces from smooth, polished concrete to grouted floors and stone. Configuration options include single disk, orbital, dual disk and new to Tennant's walk-behind scrubber range, dual cylindrical.
Tennant's new dual cylindrical configuration reduces the need for pre-sweeping floors, and provides exceptional results on uneven surfaces.
The T300 is also equipped with the Insta-ClickTM magnetic head, which allows operators to change brushes and pads easily, safely and quickly, as well as Tennant's patented parabolic squeegee for outstanding water recovery in a single pass.
The T300 features a new optional Pro-PanelTM LCD touchscreen interface that provides simplified operation with easy to understand graphics and video tutorials. The touchscreen also allows for programmable Zone SettingsTM, to set specific machine settings for different locations and floor types, taking the guess work out of the cleaning process to ensure consistent results. The
Pro-PanelTM also features on-demand video tutorials on machine operation and maintenance.
This helps minimise operator training and improves operator confidence in using the machine for increased uptime.
"Tennant is continually innovating to improve our customer's cleaning operations with high performance sustainable technologies.
It's our commitment to drive innovation in both cleaning technology and cleaning process to help our customers  clean more places, clean better, and clean for less," said Dave Huml, Tennant Company Senior Vice President of Marketing.
The T300 is Tennant's first scrubber equipped with ec-H2O NanoClean.
Like the original ec-H2OTM technology, ec-H2O NanoClean electrically converts water into an innovative cleaning solution with the same great benefits and now cleans better, cleans more soils and is effective in more applications.
The converted water is created by an onboard e-cell that generates millions of microscopic bubbles – nanobubbles – per millilitre of solution.
These nanobubbles then promote the cleaning efficacy of the solution.
ec-H2O NanoClean effectively removes typical daily soils as well as more stubborn soils like food greases, without leaving chemical residue. This improves floor traction and increases safety within the facility.
Contact Tennant for an onsite demonstration.
Tennant Australia
1300 TENNANT