WA Safety Show hits the mark
31-08-2010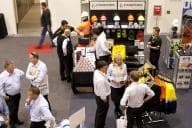 The WA Safety Show held earlier this month at the Perth Convention Exhibition Centre has been a hit with both exhibitors and visitors.
"This was our first safety show ever and we're very excited with the results," said Sam Marciano manning Chocolate Coded's TIKS (Touch Information Kiosk Solution) that provides access to work-related documents and information via touch-screen kiosks.
"The first two days were extremely busy with around 85 per cent of inquiries from the mining industry and the remainder from the construction industry and municipal councils," he said. "Serious leads were double what we expected."
Mick Donohoe from Piranha Eyeware's Ugly Fish stand said there was a high level of interest from mining and support firms, as well as from government and councils in safety and sporting eyeware.
"We are happy with the quality of leads and it was also good to reengage with existing clients," he said.
"We're excited by leads generated for our Master Lock range of lockout-tag out products – mainly from the mining, oil and gas industry," said Simon Kotz of Mayo Hardware. It reflects the intensity of concern about safety and security."
Myosh, principal corporate sponsor and an exhibitor at the Show also reported it was very pleased with the result. Myosh sells 100 modules of business software including more than 40 focusing on safety management in use by mining firms operating in remote regions.
Spokesperson Adrian Manessis said: "There has been a lot of interest in our e-learning modules. The Show also provided the opportunity to catch up with existing clients and review their needs."
The exhibitors were among 170 at the WA Safety Show.
Australian Exhibitions & Conferences 
Ph: 03 8672 1200