WA Safety Show a 'must' for safety managers
31-08-2010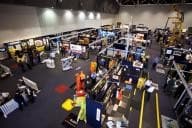 Technological innovation that underpins the modern, safe workplace will be in focus at the WA Safety Show, Perth Convention Exhibition Centre from August 7-9.
The State's only dedicated workplace health and safety event will offer visitors a unique opportunity to discover the most comprehensive range of products and services.
Visitors will also have an opportunity to network and learn from industry experts via interactive live demonstrations, dedicated feature areas, free seminars and workshops.
According to organizers, this will be a 'must event' for OHS managers and officers, risk managers, production managers and logistics managers, as well as those in charge of warehouses, quality assurance, project management, maintenance, plant, building construction and maintenance, HR, rehabilitation, occupational therapy and emergency services.
More than 150 exhibitors will display Australia's latest and most innovative range of products and solutions in health and safety.
Visitors will be updated on new Harmonisation Workplace Health and Safety laws, due to take effect from January 1.
This includes latest changes to safety legislation, employer responsibilities and employee rights.
To register visit wasafetyshow.com.au
Australian Exhibitions & Conferences
Ph: 03 8672 1200