WA COMPANY LEADS THE WAY IN MINERAL EXPLORATION TECHNOLOGY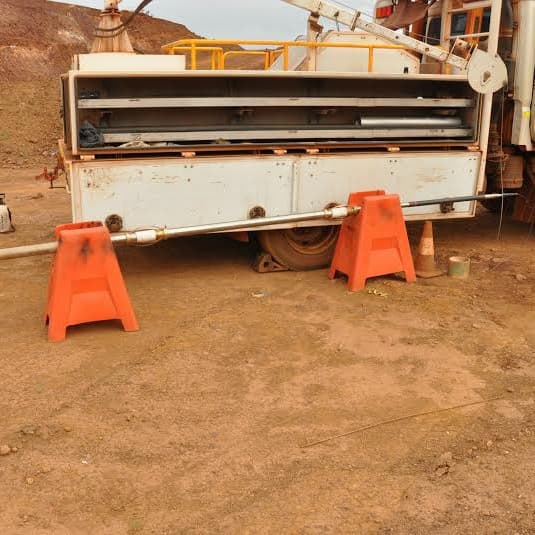 Just why Australia is at the very forefront of international mining operations is exemplified by the pioneering innovations of Perth based NMR Services Australia (NMRSA), experts in mineral exploration and mining geophysics and groundwater hydrogeology.
Taking it to another level, in fact a whole new level, is perhaps the best way to describe the disruptive slimhole Nuclear Magnetic Resonance (NMR) borehole logging technology developed by CEO Tim Hopper and the team at NMRSA.
Identifying a market need and creating a solution to address that need is the very essence of invention. With such innovation come jobs for Australians. NMRSA has already created ten new jobs in Australia for skilled workers.
Today, NMRSA is firmly established as an industry leading supplier of NMR solutions that, for the first time, enable mining companies to precisely quantify moisture content of ores in-situ and differentiate mobile water (specific yield) from bound water (specific retention). The same solutions also play a key role in enabling hydrogeologists determine water content and transmissivity of groundwater aquifers.
The importance of these measurements is driving rapid growth, with exports to other international geomarkets now approaching 60% of total revenues.
As the global appetite for raw materials increases, and easy to access, near surface mineral deposits are exhausted, exploration drilling for replacement resources is having to probe deeper sediments.
Today some 70% of mineral resources are within a potentially high hydration zone, and in the case of porous rock and soil mixtures, relative moisture content can equal up to half the mass/weight of any material extracted from the hydration layers.
When miners extract and ship material that contains within it a high moisture content, and shipment values are measured by weight, it takes no great feat of imagination to realise that a major part of the shipment tonnage weight could be moisture and not primary product.
Such high relative moisture content just isn't good enough for modern day mining economics and NMRSA took on the "pathfinder" challenge in developing a solution whose time had come.
Similarly, the capacity to accurately quantify moisture content and rock porosity, thus generating data to create detailed 3D moisture distribution models equips geophysicists and hydrogeologists with the data needed to design suitable moisture drainage strategies. It's a game changer for mine productivity.
Like all inventors the team at NMRSA were excited by the challenge of developing solutions to major industry challenges. However, the resulting NMR technology also needed to be cost effective in order to gain market traction and accelerate uptake globally.
Moreover, the NMR logging technology needed to address a wide range of borehole sizes, ore types, in-situ conditions and answer products. The first generation of NMR logging tools initially targeted iron ore.
However, following NMR hardware refinements, development of new NMR excitation methods, improvements in signal processing and implementation of more advanced analysis techniques, applications of the technology now include gold, copper, lithium and potash.
Two different versions of NMR logging tool have been developed, one for use in boreholes up to 160mm in diameter and another for use in larger boreholes up to 250mm in diameter.
Both versions are 2m long and weigh just 20kg. This degree of miniaturisation was an engineering achievement in its own right, involving 18 months of intensive R&D, all conducted in Australia.
More impressive still was the success achieved expanding the technical capability of the logging tools, in terms of measurement depth of investigation, data quality and data density provided, which are normally compromised through miniaturisation.
NMRSA has also successfully boosted adoption of NMR technology by offering intensive training support and has introduced new and innovative learning concepts to enable end users to fully utilise the rich and diverse range of new actionable data that NMR technology provides.
While private capital raisings were utilised, most of the R&D and operational funds have come from reinvestment of NMR profits and revenues.
The focus on R&D continues, with Tim predicting that up to five new products will be brought to market over the next three years.
Continued vigorous expansion of the NMR product range may involve some strategic joint ventures in the future, a possibility that Tim and the NMR management team are considering with an open mind. Current strategic relationships with ALT in Europe are robust and working well at all levels.
The local and international success achieved by NMR in such a short time is truly remarkable. More than five separate mining operations across Africa are using NMR technology. NMR equipment is also solving mining challenges in the United States, South America as well as New Guinea and the South Pacific.
When the Australia mining industry considers technical innovation then unquestionable leaders in innovation such as NMRSA must rank in the first tier.
For more information: http://nmrservices.com.au/
David Gray is lead consultant at Digital information partners that provide Communications & technical and policy Documentation for the Manufacturing & Export Industries, Political Media Communications, Public & Social Media Relations(PR).  David can be contacted at www.diginfo.com.au