VR STARTUP FIRES UP FOR INNOVATION AWARD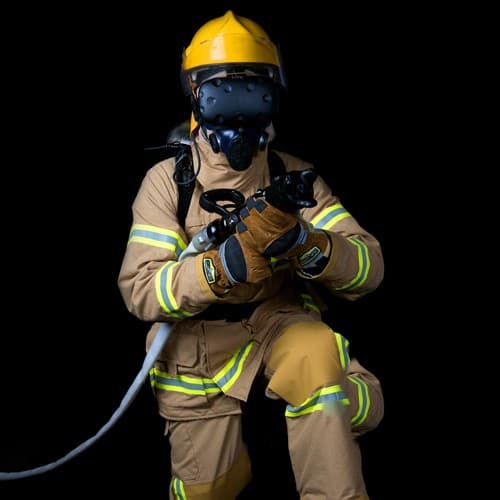 A Deakin University spinoff has won startup of the year at the prestigious Australian Information Industry Association's iAwards.
Flaim Systems took home the top award with its revolutionary virtual reality fire-fighter training tool, the Flaim Trainer, which allows fire-fighters and first responders to train without being exposed to the dangers of real fire.
The Flaim Trainer product is the brainchild of Associate Professor James Mullins, who started his career as a researcher at Deakin University and is now Flaim Systems Chief Technology Officer and Chief Executive Officer.
Flaim Trainer has revolutionised the way fire-fighters and first responders around the world are trained by using virtual reality and haptic technology.
According to Deakin Deputy Vice-Chancellor for Research Professor Julie Owens: "Flaim Systems is one of the original tenants of Deakin's ManuFutures facility and demonstrates Deakin's commitment to translating research into real-world products. Flaim Systems is a fantastic Deakin success story, and we congratulate James and the whole Flaim team on this award.
"Deakin is proud to have supported and nurtured the original concept through business establishment and a seed funding round. Our world-leading manufacturing and innovation hub at ManuFutures has allowed Flaim Systems to accelerate the commercialisation of the original research to what we see today."
Flaim Systems currently employs 18 people and exports to 14 countries, with plans to expand into further international markets.
The company has recently launched its second product. The Flaim Extinguisher is a training tool that allows people to practice operating fire extinguishers from virtually any location.