Voltage optimisation ticks all the boxes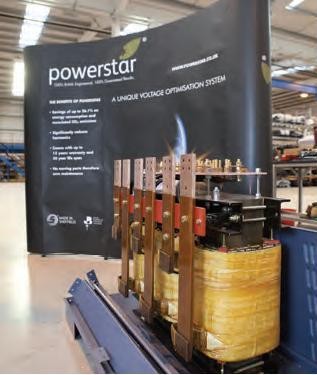 Voltage optimisation is being increasingly recognised globally as a proven and reliable technology, capable of reducing energy consumption and carbon emissions without affecting site operations. However, according to Sam Czyczelis, general manager of Powerstar Australia, Australian companies are a bit slow on the uptake of this technology …
Voltage optimisation is a highly effective energy saving technique and has an excellent payback period.
The technology has a significant impact on the amount of energy used because it brings the voltage supplied by the grid in line with what is actually required.
Australia has a particular problem with over-voltage and voltage optimisation is emerging as a solution that ticks lots of boxes, including, importantly, meeting CO2 reductions.
The statutory electricity supply range for Australia is 230V +10% to -6%, which means that electricity suppliers are required to provide a voltage level that is between 253V and 216V. Therefore, the supplier will distribute electricity at 253V and the voltage decreases over distance. On average, is it received from the grid at 242V.
Given that most electrical equipment manufactured for Australia is designed to work most efficiently at 220V to 230V, any incoming power that is higher than this level is wasted energy and means companies are paying for power that is not required and not used.
Voltage optimisation works best on inductive loads — motors and lighting for example — and significant savings can be achieved on motors in particular, especially if these are not loaded at 100 per cent of their capacity for 100 per cent of the time.
The Powerstar voltage optimisation unit is a highly efficient, patented triple wound transformer that is designed to correct the over-voltage by bringing it in line with the actual needs of the equipment on site.
The system effectively reduces the voltage to an optimum level whereby all the equipment operates correctly but consumes less power in the process. In addition, the Powerstar unit also offers improvement in power quality by balancing phase voltages, cancelling damaging harmonics and transients from the electricity supply and reducing the reactive power, hence improving power factor.
Over-voltage means that energy consumption is not only higher, but as a result, the lifespan of equipment is shortened. Installing a Powerstar voltage optimisation unit leads to reduced maintenance costs as less demand is placed on electrical equipment.
The technology presents an excellent opportunity for savings
Generally, voltage optimisers will deliver between 12-15 per cent savings. However, the most efficient solutions can save up to 26 per cent of total electricity consumption and related CO2 emissions without compromising the supply to electrical equipment.
One Powerstar user in Australia, Swire Cold Storage in Melbourne's west, achieved monetary savings of 13-14 per cent per annum and a reduction in CO2 of 490 tonnes.
Thanks to advances in voltage optimisation technology, almost any site – including those with older transformers, those where physical space restrictions previously made voltage optimisation installations difficult to implement, and new builds — can benefit from voltage optimisation today.
But while virtually any site stands to gain by reducing and controlling its voltage, savings will be determined by the type of system used as well as site specifications. This is where choosing the right supplier and solution is essential.
To ensure optimum savings and performance, a comprehensive analysis of a site's power conditions should be completed before installation. As each building is different, with its own unique infrastructure and specific load requirements, a voltage optimisation strategy should be customised to ensure that savings are maximised.
The importance of installing a tailored, engineered solution cannot be emphasised enough — a genuine, dynamic voltage optimisation solution supplied by an experienced and reputable company will not only maximise energy savings and carbon reductions, but will also ensure that equipment will operate as efficiently as possible at all times, that the lifetime of equipment will be maximised, and that maintenance costs will be significantly reduced.