Published 16-04-2020
| Article appears in April 2020 Issue
Voltage measurement a breeze with IOLITE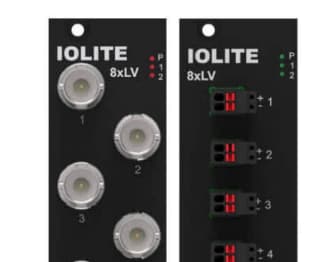 The newest member of the IOLITE DAQ family has arrived. Real-time control and feedback monitoring of voltage input data is now possible with the IOLITEi-8xLV module from Dewesoft.
An isolated eight-channel low-voltage module, IOLITEi-8xLV sets a new standard in general purpose voltage input data acquisition. Equipped with an analog anti-aliasing filter with a cut-off frequency of 26 kHz, the IOLITEi-8xLV acquires data across all eight channels simultaneously at a sampling rate of up to 20 kS/sec.
BNC or terminal block input connectors are included in the standard model, along with two input ranges: ±100 V and ±10 V. Further input ranges of ±10 V and ±1 V are optionally available.
Also included are two EtherCAT buses in parallel for DAQ and real-time control, making it possible to mount in both the IOLITEr or IOLITEs chassis. Full speed buffered data acquisition to a PC is possible via the primary bus, while the secondary bus provides a real-time low-latency data feed to third-party EtherCAT control systems.
Additionally, IOLITEi-8xLV is powered by the award-winning Dewesoft X data acquisition software. Intuitive, robust and highly intelligent, the software comes with free upgrades for the life of the product.
For voltage measurement, you need high accuracy, high channel-to-channel and channel-to-ground isolation, and a great price/performance ratio - and that's the IOLITE-8xLV, available now from Dewesoft and Metromatics.
Metromatics Pty Ltd
07 3868 4255