THE VOICE – IMPROVING WAREHOUSE PRODUCTIVITY AND SAFETY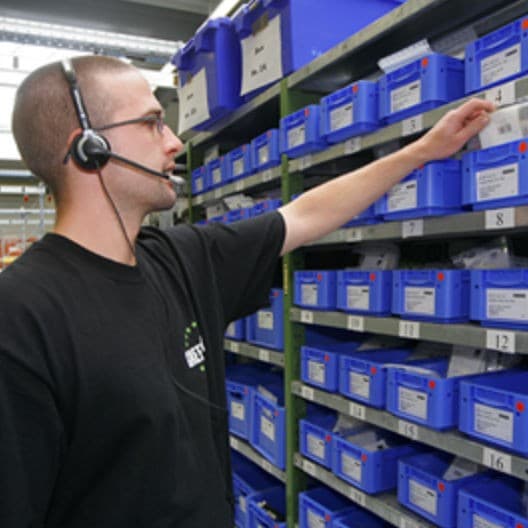 Ross Grassick argues that pick by voice systems not only improve accuracy and productivity in warehouse management, they also enhance worker safety.
Any warehouse picking operation is only as effective as the speed and accuracy with which the staff can put their orders together.
Old-style paper-based systems are still in use, but they rely heavily on the knowledge and experience of the staff involved. However, in more intensive applications, the prevalent technology is the wireless barcode scanner, which directs the picking operation with on-screen prompts and records the pick by scanning.
However, the system is far from perfect. And, inevitably, the majority of errors that occur only come to light after the order has been delivered.
It is no secret that voice technology (both recognition and synthesis) has improved massively in recent years. And one of the most effective applications has emerged in warehouse management.
Pick by voice systems use a wireless headset, which directs the picker to the location of each item required and the quantity required. Once an item is picked, the picker reads back the last few digits of the item concerned, and the system confirms by voice whether the item is correct.
The picker has both hands free for picking at all times, with no need to put down or holster a scanner to free up a hand for picking.
There are two immediate benefits from this approach.
Because the system involves inbuilt checking of each pick, accuracy is greatly improved (with some studies indicating that picking errors are reduced by 80-90%). And because there is no need to go back and forth between picking and scanning (or filling out forms), the speed of picking is greatly improved.
Furthermore, because the system is fully guided, there is less reliance on the skill and experience of the operator, so that packing staff can be trained up and productive in far less time than with paper- or scanner-based operations.
There are also two key workplace health and safety aspects to voice-guided picking.
First, because picking staff are not repeatedly looking down to check paperwork or scanner screen messages, they are fully aware of their surroundings at all times and so can react to potentially dangerous situations.
Secondly, with both hands free at all times, staff can employ proper lifting procedures, rather than performing unbalanced picking operations while juggling scanners or clipboards.
Lencrow Materials Handling
1300 536 276
www.lencrow.com.au