VISIONSafe shines new light on safety
31-08-2010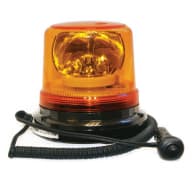 New to the ever expanding VISIONSafe range is ACOT500's 3124 Rotating Beacon. 
This exciting addition has all the features you could possibly need in a rotating beacon. 
Noisy gear, worm, and belt drives are now a thing of the past. 
A self-tensioning silicon Direct Drive makes this unit whisper quiet, with the same performance time and time again. 
The new ACOT500 Rotating Beacon also has a low profile UV Stabilised Polycarbonate Lens that has an interlocking thread and added O ring. This makes it virtually water and dust tight. It also allows it to meet the IP65 International Protection Standards for dust and water resistance. Combine this with an operating temperature range from -20° to 50°C, this gives us a beacon that can withstand anything you throw at it. 
Utilising the latest in reflector design, it has a squat style reflector which has deep, aggressively curved vertical and horizontal angles allowing its H1 Halogen globe to project light much further. This means the user will be seen from a greater distance than ever before and make work areas much safer.
The beacon comes in both Hard Wire and Magnetic Base versions, with a pole mount adapter also available. 
The Magnetic Base version features ACOT500's standard extra long 4m curled lead, with a pistol grip plug complete with fuse for your convenience.  
This plug also incorporates an On/Off switch with an LED to let the operator know if the beacon is on or off meaning less chance of expensive fines for not turning the unit off when leaving a work area!
Stocked in both 12 and 24 VDC versions, the unit is actually 12-24 VDC friendly so can be converted from a 12 VDC to a 24 VDC by simply changing to a 24 VDC globe, and vice versa. 
VISIONSafe
Ph: 08 9295 0624