VISIONSafe lights the way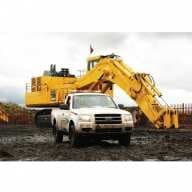 Specifically developed by ACOT500 to handle the harsh terrain and conditions found on mine sites, VISIONSafe offers the Assassin Mine Site Light Bar. 
With its IP66 rating, this bar can withstand anything including dust, rain, fog, night and blistering day conditions.  
Vehicles working in the mining and emergency industry need to be extremely visible yet maneuverable, so this innovative light bar was designed to be a low profile unit. They are aerodynamically designed to reduce airflow resistance and drag on the vehicle when traveling at high speeds. 
The unit's 180° vertical and 360° horizontal light output gives maximum visibility. 
Compared to strobe and rotating lights, the LED bar has a very low current draw to preserve the life of the vehicles battery. 
High quality LEDs and polycarbonate lens prevents fading of the LEDs and the lens colour. 
It is waterproof and is also vibration resistant. Its modular design allows for complete customisation to specific requirements and easy maintenance of the light bar. 
Special features include built in warning lights, brake/tail lights, reverse and indicator lights and a reversing alarm. 
The light bars come in a variety of lengths to suit your application. 
VISIONSafe
Ph: 08 9295 0624